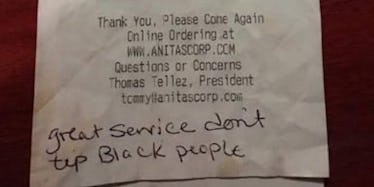 Couple Leaves Racist Note For Waitress About How They 'Don't Tip Black People'
Twitter
The food service industry comes with its ups and downs.
Whether you're having to work under immense pressure due to understaffing or you're dealing with grouchy restaurant patrons regardless of the fact you're being kind and cordial, waiting tables isn't as easy as it seems.
But what do you do when the guests you're serving leave an insulting note for you on their way out despite stellar service?
That's exactly what one waitress was forced to deal with after a blatantly racist note was left for her by a couple she served.
Kelly Carter, who works as a server at Anita's in Ashburn, Virginia, had been serving a white couple in their 20s when she discovered a note they left along with their receipt for their $30.52 bill.
The repulsive note read,
Great service, don't tip black people.
In other words, the couple paid for their meal with the nearly exact change needed and proceeded to praise Carter's "great service" while explaining why she didn't get a tip: She's black, and they "don't tip black people."
Kelly Carter spoke to Washington's News4, saying,
I looked at the receipt three times is what I did. Because I was shocked. Because I've never, never being a server seen that.
Reporters also spoke to Carter's manager Tom Tellez who admitted to being absolutely "appalled" by the racist note. However, Tellez said the note is "kind of in line with the political landscape."
I won't put words into Tellez's mouth, but I think what he's trying to say is the racist note addressed to one of his servers for her "great service" is unsurprising because of the current state of American politics.
Perhaps.
Though, the fact human beings can be that stupid will always be shocking. Some of us are actually brainless...
What isn't surprising about that?!
Luckily, Carter received a tremendous amount of support when regular customers shared a photo of the racist note on Facebook where it went viral.
Since then, locals have stopped by Anita's to show their sincere support for Carter.
As for the note and how it might have affected her, she says,
He didn't hurt me. He only hurt himself. He only makes us stronger.
She also stated she wouldn't hesitate to serve the couple again if they were to dine at the restaurant in the future.
Citations: Waitress Says White Couple Left Note That Said 'Great Service, Don't Tip Black People' (Complex), Virginia Waitress Says She Received Racist Message on Receipt (NBC Washington)