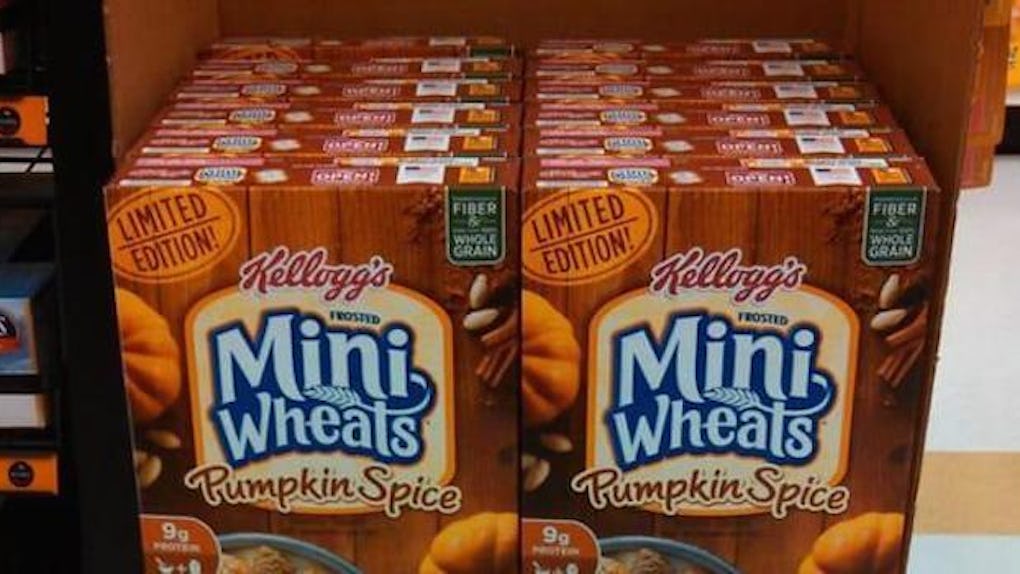 Kellogg's
OMFG: Pumpkin Spice Frosted Mini-Wheats Will Actually Be Here Soon
It isn't even fall yet, but it looks like pumpkin spice pandemonium is already starting.
This week, cereal giant Kellogg's announced the recent launch of Pumpkin Spice Frosted Mini-Wheats, becoming the first major cereal brand (aside from Trader Joe's) to tap into the national obsession with the fall-inspired flavor.
Needless to say, people are already going apesh*t.
The cereal may already be available in some locations, but the cereal giant has not yet set a date for nationwide release.
However, the limited-edition breakfast staple will be available in grocery stores across the country soon; you'll just have to keep an eye out.
It may be a little early for pumpkin season, but who's to say you can't enjoy fall flavors while it's 90 degrees out?
(No one, that's who). Get snacking, friends!
Citations: Pumpkin Spice Cereal Is Finally Coming To A Supermarket Near You (Refinery29)