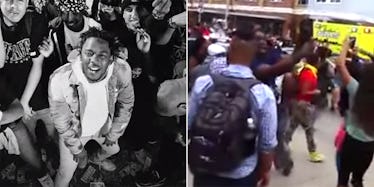 Protesters Respond To Police Harassment With Kendrick Lamar's 'Alright'
YouTube
During a Black Lives Matter conference at Cleveland State University on Sunday, things got real when police officers reportedly removed a 14-year-old male from a bus for being too intoxicated at the rally.
When bystanders began to protest the teen's removal, they were pepper sprayed. That's when the protesters came together and began chanting part of Kendrick Lamar's "Alright."
This is the Kendrick Lamar music video that inspired the chants.
In under a month, the video was viewed over 12 million times and is arguably one of the most powerful songs on his latest album, To Pimp a Butterfly.
Lamar's performance of "Alright" last month caused controversy.
After the controversial performance, Fox News reporter Geraldo Rivera said,
Hip-hop has done more damage to black and brown people than racism in the last 10 years.
But in this time of unrest and injustice throughout the country, Kendrick Lamar seems to be a powerful voice in hip-hop trying to make sense of it all.
Though the songs on his album might not be getting radio spins, his songs' messages encourage conversations about some very real-life situations.
Citations: Cleveland Protesters Chant Kendrick Lamars Alright During a Police Brutality Protest (Mic)