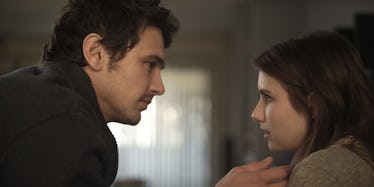 This Professor Fired His Student Just Because He Was In Love With Her
Tribeca Film
A professor was placed on unpaid leave after firing a graduate student with whom he fell in love.
Io Kleiser was 22 when she came to the California Institute of Technology in 2012 to study supernovae, or when huge stars explode toward the ends of their lives.
In addition to a full load of classes, Kleiser also began doing research under Christian Ott, a professor of astrophysics.
Ott reportedly would often message Kleiser online late at night, sometimes to ask why she struggled to make their research a top priority.
Kleiser told BuzzFeed,
Not only was [Ott] being demanding in terms of my time, but he was questioning my commitment to the work, and telling me about how it was making him feel, really from an emotional angle.
During a meeting in fall 2013, Ott told Kleiser he didn't want to be her adviser anymore, largely because of how she affected him emotionally.
Kleiser, however, did not think Ott had feelings for her. She said she was under the impression she was not performing to his expectations.
But five days after her firing, Kleiser received an online message from Ott saying he "cared" for her more than any other student and "failed in the worst way."
Ott also messaged another graduate student, 23-year-old Sarah Gossan, around this time to confess his love for Kleiser.
Gossan told BuzzFeed,
The reason he had fired her was because he was concerned she was using her sexual influence over him to not do any work.
Gossan would go on to receive messages from Ott over the next year and a half, telling her he still had feelings for Kleiser and was trying to contact her.
The conversations ate at Gossan's emotions, prompting her to do most of her research at home instead of Ott's office.
After some time, Ott began to place heavy demands on Gossan, asking her to work 80 hours a week in her third year.
When Gossan couldn't deliver, she said Ott told her she "would never make it in academia," and he did not allow her to speak at a conference about Albert Einstein last April.
By the following month, she filed a complaint with Caltech's Title IX office and switched advisers.
Kleiser was contacted last June by the Title IX coordinator. The coordinator showed Kleiser 86 poems Ott wrote about her and posted on his Tumblr page.
Last September, the university's investigation of Ott, 38, determined his treatment of both women violated the school's harassment policies.
He was placed on nine months of unpaid leave and barred from campus for the same amount of time.
Ott's communication with most of his postdoctoral fellows will be monitored, and he can only come in contact with one graduate student.
Ott told BuzzFeed he was not solely responsible for firing Kleiser.
He said,
When problems with students arise, multiple faculty get involved and a solution is found that ensures the graduate student is not harmed.
Kleiser said her firing sent her into a "several-month-long state of depression," drastically impeding her ability to work.
She left Caltech earlier this month and is now doing graduate work at University of California, Berkeley.
Gossan remains at Caltech and will get her degree next year.
The women's former adviser must undergo "rehabilitative" training before he is allowed back on campus on July 1.
Citations: This Professor Fell In Love With His Grad Student — Then Fired Her For It (BuzzFeed)