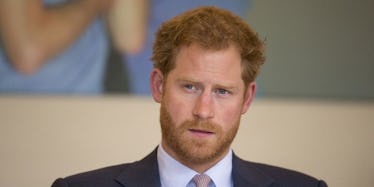 Prince Harry Filmed Himself Getting Tested For HIV/AIDS And It's Inspiring
REX/Shutterstock
I've said it before and I'll say it again: If I were to wake up a heterosexual woman one morning, I would totally seek out a way to date the gorgeous Prince Harry. Not only do I have a thing for sassy gingers, but I also have a thing for sex-positive royals whom are deeply committed to ending the HIV/AIDS epidemic that's been plaguing the world since the 1980s.
What am I talking about on this bleak Thursday summer morning? Oh, wouldn't you like to know? Well, don't fret, I'm here to spill the beans. The lovely Prince Harry live-streamed his HIV test on The Royal Family Facebook page.
And my heart is melting (I didn't know a boy could invoke so many feelings in my little lesbian heart).
On a serious note, there is still so much stigma surrounding HIV/AIDS and it's gut-wrenching. I've known so many brilliant, smart, young people who are terrified to get tested for HIV because they're ashamed. And it's the shame that keeps the virus spreading.
To see the regal Prince Harry getting tested, with zero shame and a positive, proactive attitude is a groundbreaking moment for HIV/AIDS and will help to de-stigmatize the virus and the act of getting tested.
Not only does Prince Harry show how simple and painless the actual test is, he's showing us that HIV/AIDS doesn't discriminate. Everyone who is sexually active is at risk for HIV/AIDS, regardless of where you land on the race, socioeconomic or sexuality spectrum.
Even royal gingers are at risk. If this doesn't inspire you to get tested, baby, I don't know what will. I know I'm going straight to the clinic after work, so I can feel sexy and empowered, like a smart, young woman who took her sexual health into her very capable hands.
See you at the clinic, honey.
Citations: Prince Harry has 'groundbreaking' HIV test broadcast live on the Royal Family's Facebook page - and discovers just one minute later the result is negative (Daily Mail)