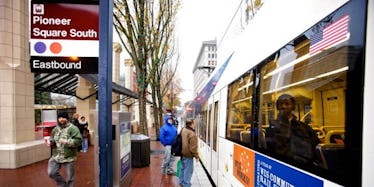 Mom Of Portland Victim Speaks Out In Heartbreaking Facebook Post
Craig Mitchelldyer
People in Oregon and across the country are experiencing heartbreak.
In the wake of an alleged white supremacist fatally stabbing two people on May 26 in Portland, the mother of one of the victims took to Facebook to share an emotional message about her 23-year-old son.
According to the post, she wrote,
Taliesin Myrddin Namkai Meche, My dear baby boy passed on yesterday while protecting two young Muslim girls from a racist man on the train in Portland. He was a hero and will remain a hero on the other side of the veil. Shining bright star I love you forever.
Meche was a 2016 Reed College graduate who studied economics, according to his Facebook page, and died while standing up to a man who had gone on a racist rant against two Muslim women on a Metropolitan Area Express (MAX) light-rail train.
The attacker, identified as 35-year-old Jeremy Joseph Christian, was allegedly verbally assaulting the women, one of whom was wearing a hijab, according to reports.
Passengers — including Meche — tried defending the women as the rant continued. Christian lashed out and slashed Meche and two other people.
Fifty-three-year-old Ricky John Best was also fatally stabbed, according to Portland Patch, and the survivor, Micah David-Cole Fletcher, is reportedly being treated for non-life-threatening injuries.
People in the area are standing together and trying to help the victims' families, and some have begun donating to a GoFundMe page.
The page reads,
Two men were killed today because they stood up for two Muslim women who were being harassed on Tri-Met by a racist. Another was injured. They are heroes, yet their families are not only going to be faced with the pain of losing people they love, but with financial hardships from their passings.
As of May 27 at 4:30 pm, people have raised over $27,000.
Various other fundraisers and messages of support have been surfacing throughout social media.
The victims are being considered heroes.
Hearts are breaking across the country over this horrific act.
Citations: Asha Deliverance (Facebook)