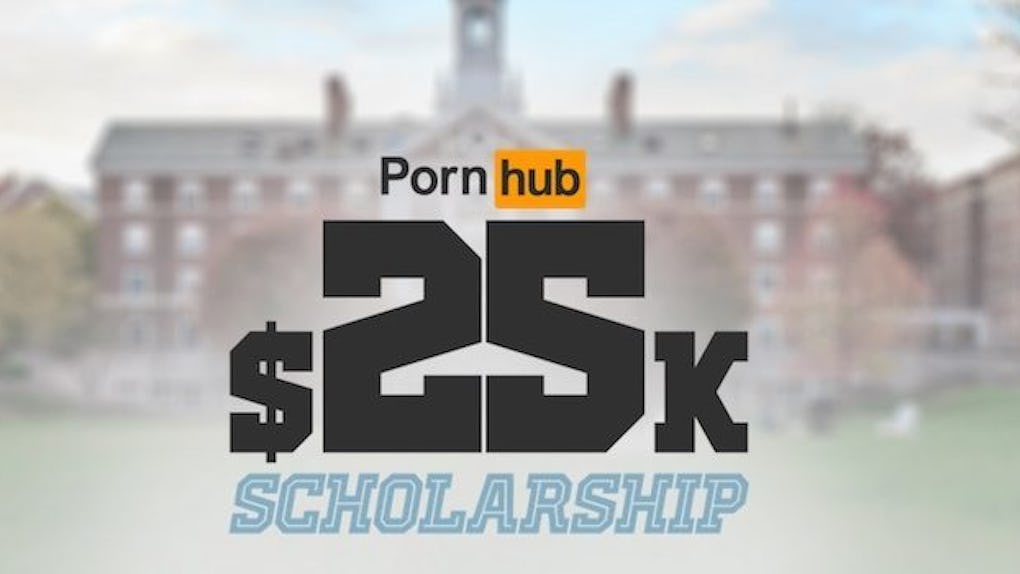 PornHub
This Isn't A Joke: Pornhub Is Actually Offering A $25,000 Scholarship
Pornhub, the adult entertainment site, recently announced it will accept submissions between now and October 31 for one lucky student to win $25,000 in university scholarship.
Wait, hold on. WAIT! PUT YOUR PANTS BACK ON!
The campaign, Pornhub Cares, does not require applicants to submit amateur porn of any kind but, instead, merely asks hopefuls to be current students over the age of 18 with a minimum GPA of 3.2.
The application proc -- SERIOUSLY? ARE THOSE SEXY GLASSES? I SAID PUT YOUR PANTS BACK THE HECK ON.
The application process merely consists of an essay, ranging from 1,000 to 1,500 words, in which students must describe how they "strive to make others happy."
Furthermore, the site -- HEY! A TINY PLAID SKIRT AND NO UNDERWEAR IS NOT WHAT I MEANT BY, "PUT YOUR PANTS BACK ON." AND STOP SLAPPING YOUR BUTT WITH THAT RULER.
Furthermore, the site asks applicants to submit a video to "[elaborate] on the good work" previously stated in their essays.
While the stipula -- GET OFF THE DESK. OH, GREAT, YOU LICKED ALL THE PENCILS, AND NOW, THEY'RE RUINED. GET OFF THE DESK. NOW.
While the stipulations seem up for shady interpretation due to the site's regular acceptance of amateur submissions in exchange for cash prizes, Pornhub insists its aim to aid students in need is an earnest one.
In an int -- YOU'RE WORKING MY LAST FREAKING NERVE WITH THAT BUTT SLAPPING. I WILL SHUT THIS WHOLE THING DOWN.
In an interview with The Daily Beast, Pornhub Vice President Corey Price claimed sex is not necessary to win.
He explained,
It's definitely not a requirement. The criteria isn't to submit the best porn video and get a scholarship. I would be surprised if we had any pornographic entries.
Students have until the end of -- THAT'S IT. I SAID I'D SHUT IT DOWN, AND I AM SHUTTING IT DOWN. TURN OFF THE ZAPP.
Students have until the end of October to apply for the scholarship and are encouraged to be "creative" in their approaches.
Citations: Pornhub: Our New $25,000 Scholarship Is Legit (The Daily Beast)