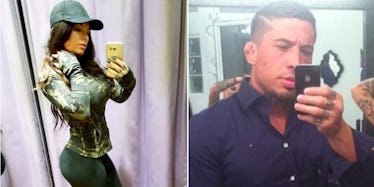 Porn Star Reveals Texts From Jealous MMA Fighter Ex Before He Beat Her In Bed
Instagram/Twitter
Though an MMA fighter and a porn star had been sending each other promiscuous texts, he allegedly attacked the woman upon discovering her in bed with another man.
War Machine, 35, is currently on trial in Las Vegas over the 2014 incident involving his ex, Christy Mack. He is accused of attempted murder and sexual assault.
Giving evidence this week, Mack spoke about the physical abuse she suffered at the hands of her fighter boyfriend.
She described the night of the alleged attack, when he subjected her to a two-hour ordeal during which she claims he threatened to kill her.
Mack said she sent a topless photo to the fighter just before he came around to her house in August 2014.
War Machine sent a three-word reply reading,
I need that.
Mack, 25, replied "It's all yours," but when War Machine arrived, he found her in bed with Corey Thomas, who The Las Vegas Review Journal claimed was her "then-boyfriend" at the time.
He allegedly attacked Thomas before turning his attention to Mack, who was left with horrific injuries.
She suffered a fractured eye, two missing teeth, two fractured ribs, a lacerated liver and a broken nose, as well as heavy bruising to her legs. Both victims nearly died.
She told the court,
There's no way I could physically overpower him.
Born Jonathan Koppenhaver, War Machine met Mack, whose real name is Christine Mackinday, on an adult film shoot.
He reportedly became jealous as she continued working in the porn industry while they were dating, and subjected her to violent abuse over 15 months.
Earlier in the trial, the court heard he stood over Mack during the beating and told she would be killed, the Las Vegas Review Journal reported.
He said,
This is it. I've got to kill you now.
War Machine pleaded not guilty to 34 charges that include kidnapping, attempted murder and sexual assault.
He could face life in prison without parole if he is found guilty.
Citations: War Machine's attacks on girlfriend escalated through relationship, prosecutor says (Las Vegas Review Journal), MMA fighter War Machine 'almost beat his porn star girlfriend to death' after she sent him a topless photo and he rushed home to find her in bed with another man (DailyMail.com)