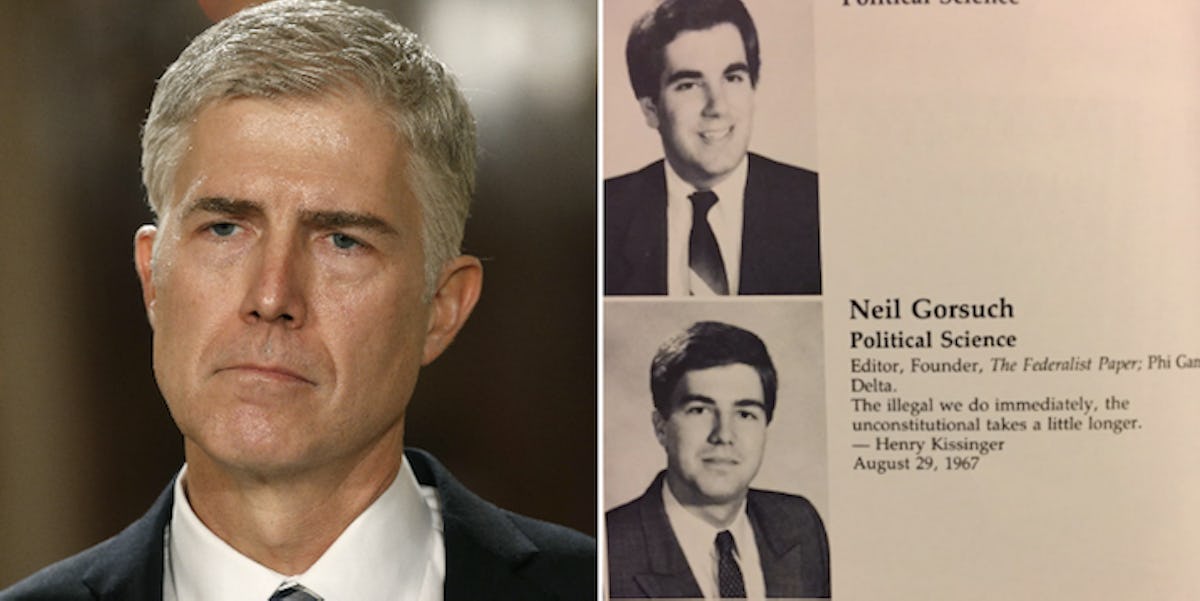 Eerie Yearbook Quote Of Trump's SCOTUS Pick Will Make You Uneasy About Future
REUTERS/Twitter
Occasionally, the past comes back to haunt you in cruel and surprising ways.
For me, this happened last week when I drank too many ciders and over-indulged on pizza the night before an early start at work. The not-so-distant past was a cruel mistress that morning.
What is a little more eyebrow-raising — and ever so slightly terrifying — is a tiny nugget of information from the past of Neil Gorsuch, President Trump's new nominee for the Supreme Court.
Incredibly, an old classmate of Gorsuch has managed to find him in their old yearbook, and the picture is flying around on Twitter.
If you can, divert your eyes away from his powerful '80s hair game for a second to read the quote he chose to include in his yearbook.
And if you're feeling glum about the Trump administration, it will do absolutely nothing to cheer you up.
The quote reads,
The illegal we do immediately, the unconstitutional takes a little longer.
REMINDER: This man will be one of the most powerful people in the USA if, as expected, he becomes the ninth job sitting on the Supreme Court.
Former Secretary of State Henry Kissinger, who served under Richard Nixon and Gerald Ford, is the man behind the quote.
Right. OK.
I mean, on one hand, I want to give Gorsuch a break here. We all had wild college days, and maybe this was a particularly rebellious stage for the judge.
But when you consider the power he will probably have soon — and the constitutional question marks raised over Trump's controversial refugee ban — it's not what we need to read right now.
Described by Trump as a "good and brilliant man," Gorsuch is currently on the United States Court of Appeals.
He was nominated by Trump after Republicans in the Senate blocked Barack Obama's suggestion, Judge Merrick Garland, from being appointed as a new justice.
At 49, Gorsuch is crazy young for a justice — and would be the youngest member of the Supreme Court.
It is unsurprising, but important Trump nominated a conservative-leaning justice like Gorsuch, as it ensures there are more conservative than liberal justices.
Citations: Donald Trump's Supreme Court nominee has a truly chilling yearbook quote (Indy100)