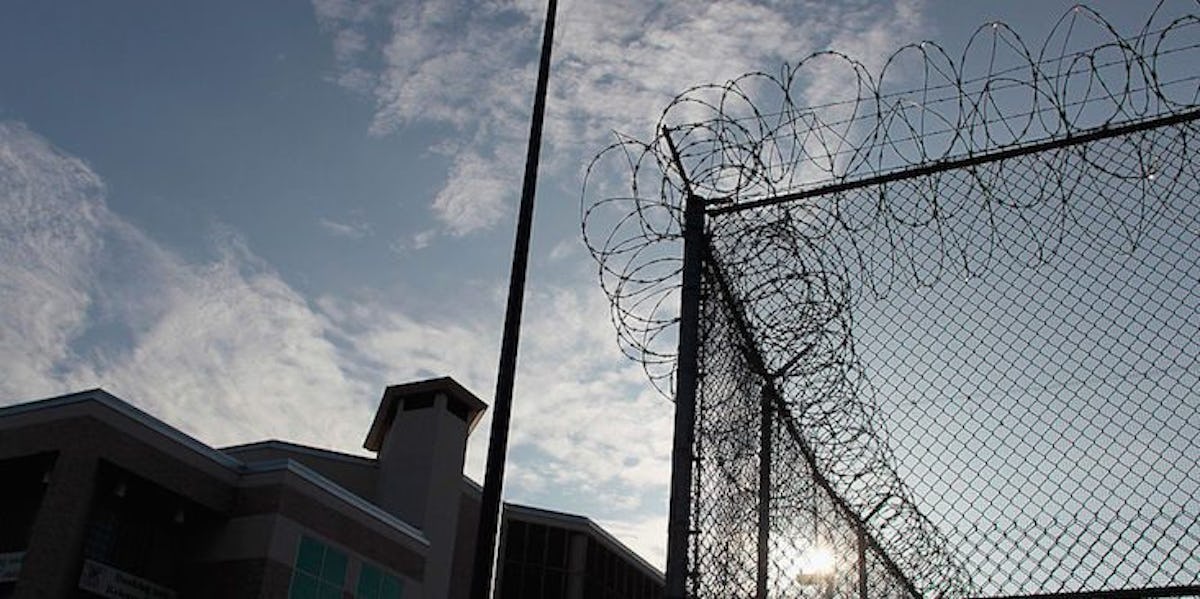 Women Are Often Ignored In The Conversation On Criminal Justice Reform
Joe Raedle / Staff
For all the popularity of Orange Is The New Black, women in prisons are often not given enough attention, according to experts on the topic.
"Criminal justice reform" may have been a buzzword recently, but problems specific to female prisoners -- including mental health, drug problems, and motherhood -- just haven't been talked about enough. We have to do a better job specifically thinking about women in jails and their needs.
To understand the specifics better, I spoke with Liz Swavola from the Vera Institute of Justice, Topeka Sam from The Ladies of Hope Ministries and the National Council for Incarcerated and Formerly Incarcerated Women, and Georgia Lerner from the Women's Prison Association, for interviews with Elite Daily.
These women all participated in Women Unshackled, a forum hosted by the Justice Action Network and the Brennan Center for Justice at the Newseum in Washington D.C. on Tuesday, July 18.
The day-long forum featured experts on female incarceration, former inmates, and several politicians, including Senators Cory Booker and Kamala Harris and Oklahoma Governor Mary Fallin.
The country is at a place where criminal justice reform is a bipartisan concern. Former President Barack Obama made criminal justice a specific focus of his presidency, but as awareness and discussions about policy change were raised, women are often left out of the conversation.
The female jail population increased by 14-fold from 1970 to 2014, the Vera Institute of Justice found in a 2016 report, which is a crazy amount. Women in jail are disproportionately women of color and many are poor and low income.
"We need to be smarter," Sen. Harris said in remarks at the event on Tuesday. "And so let's think about how we can, in being smarter, reevaluate what we are doing and think about how we are treating women in the system before, during, and after incarceration."
Women in prisons have much different life experiences than men, Georgia Lerner, executive director of the Women's Prison Association, explains to me.
Female inmates have much higher rates of mental health problems and mental illness, as well as substance abuse problems, research has shown. Other risk factors for women include parental stress and unsafe housing.
Moreover, female inmates show high levels of experiences of trauma. 98 percent of female inmates experienced trauma in a 2005 Northwestern University study.
"Prior trauma is a risk factor that we do not see as having an impact on men," Lerner says.
That past trauma can lead to the offenses that land them in jail. For instance, 24 percent of female prisoners were convicted of drug offenses, compared to 15 percent of male prisoners, according to the Sentencing Project. Drug use can be "a way to cope with the significant trauma they've experienced," explains Elizabeth Swavola of the Vera Institute.
So rather than incarcerate women who have experienced trauma, advocates argue that there should be community and rehabilitation programs.
"We really need to support community-based efforts over incarceration," Swavola says.
"Incarceration does not rehabilitate," Topeka Sam, founder of The Ladies of Hope Ministries (LOHM) tells me. Rehabilitation would address mental health issues, substance abuse, and trauma.
In fact, incarceration can arguably make trauma worse.
"When you think about the jail environment, it would be impossible for it to not re-traumatize women," Swavola says. This is because of things like shackling, male supervision, and body searches, on top of being in a chaotic environment.
Meanwhile, among female inmates, there is the issue of motherhood.
Nearly 80 percent of jailed women are mothers, and most are single parents, the Vera Institute found. There are more primary caregivers to young children among female prisoners than male.
Sam, who has herself been incarcerated, tells me she knew a woman in prison who was scared for her baby daughter. The daughter was being cared for by her mother -- who was on heroin, Sam says. But she also didn't want the state to take her daughter because she was worried she would lose touch with her.
It was "devastating," Sam says -- and stories like that are why she started her advocacy work -- but it isn't uncommon for an incarcerated woman to have worries over children outside.
Incarcerated mothers can be taken hundreds of miles away from families -- so visits are basically made impossible -- and calls home cost money. Children can face abandonment issues with mothers in jail, and they can be left in at-risk households.
"Often they're in the exact same settings where there's risks that were the same risks for their mother," Lerner says. So it's not just an adverse effect on women, but on future generations.
And this doesn't even begin to touch on pregnancy in prisons.
Overall, the experts I spoke with agree it's not about improving prison conditions but about limiting the number of women sent to prison in the first place.
While efforts to improve conditions -- including the Dignity for Incarcerated Women Act -- are helpful steps, they don't address the root problem of mass incarceration.
The best solution to the gender-specific problems women face in prison is to "not to send them there at all," Sam says. If a woman has a substance abuse problem or has faced trauma, she needs treatment, not incarceration, says Sam. And being in prison doesn't help a woman to be a better mother.
"It's unrealistic to think that prisons are going to become mental health hospitals or schools or excellent health care providers," Lerner says. "I don't think we can do better with the number of people we're sending to prisons, so we need to be thoughtful about the women we're sending in the first place."