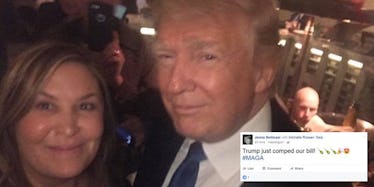 Woman Posts Selfie With Trump After He Buys Her $1,000 Dinner: 'He Kissed Me'
Facebook
President-elect Donald Trump, who is currently struggling to get people to attend his inauguration, is the thirstiest man in US politics at the moment.
On top of his inaugural woes, Trump is entering office with historically low approval ratings.
This might help explain why he paid for a woman's pricey dinner bill at his hotel in Washington, DC.
Trump apparently didn't hesitate to comp the bill, which was $1,000 in total, DailyMail.com reports.
The woman, Jenna Setticasi, had traveled up to DC from Florida to attend Trump's inauguration and the related festivities.
Little did she know she'd get a chance to meet America's next president and be the recipient of his random generosity.
Setticasi was eating dinner with her family and her friend Michelle Rosser-Seiz when her encounter with the Donald occurred.
She ended up taking some selfies with him and even caught him on video kissing her friend on the cheek.
Given Trump is currently being sued for sexual assault (and was caught on video bragging about sexual assault), he might to consider avoiding public displays of affection with random women. Just a thought...
Trump was reportedly on his way back to New York City after attending a number of dinners with top donors when he decided to make a change of plans and headed to his DC hotel.
In the process, he ditched the political press corps (a group he's not too fond of).
Trump was greeted with cheers at the hotel upon his arrival, which isn't that surprising. He does own the joint, after all.
It's not clear exactly why Trump felt the need to stop by his hotel, but it was a very quick pit-stop.
He was only there for about 30 minutes. This still gave him enough time to enjoy time at the hotel's BLT Steak restaurant and comp an adoring fan's exorbitantly priced meal.
Trump is set to become the 45th President of the United States on January 20.
Citations: The wedge salads are on me! Trump pays one fan's $1,000 dinner bill as he's mobbed while stopping by his DC hotel for a meal after ditching press pool again - 36 hours before inauguration (DailyMail.com)