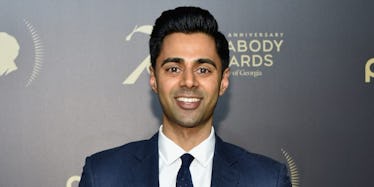 White House Correspondents' Dinner Memes & Tweets Show No One Really Missed Trump
Getty Images
The last time a sitting president skipped the White House Correspondents' Dinner (WHCD) was in 1981, when President Ronald Reagan skipped the event after an assassination attempt had been made on his life. When current President Donald Trump announced in February — not even a month into his presidency — that he wouldn't be at the WHCD, it raised a lot more than a few eyebrows. Even though he's skipping the WHCD in order to hold a rally to celebrate his first 100 days in office in Pennsylvania, the White House Correspondents' Dinner memes and tweets prove that the night was still memorable, even without the POTUS.
To be honest, I don't think Trump's White House is all that surprised that the president wasn't exactly missed. White House spokeswoman Sarah Huckabee told George Stephanopoulos in an interview last Sunday on "The Week": "I think it's … kind of naive of us to think that we can all walk into a room for a couple of hours and pretend that some of that tension isn't there," adding: "You know, one of the things we say in the South [is] 'If a Girl Scout egged your house, would you buy cookies from her?' I think that this is a pretty similar scenario. There's no reason for him to go in and sit and pretend like this is going to be just another Saturday night."
Trump kicked off the night by reminding everyone:
But Twitter responded. And the best memes and tweets from the night show (once again) that the desire to #resist is strong among the American people.
Pretty Much Everyone Waiting For ~The Show~ To Get Started
Trump Is One Of Very Few Presidents (In Recent Memory) To Skip Out
The Burns Kept Coming.... And Coming... And Coming
This. This. This. This.
One Of The Most Important Lines From The Night
Tonight Was ALL About Celebrating The First Amendment
People Just Wanted To Talk About Things That Really Mattered, Like...
Twitter did not come to play.