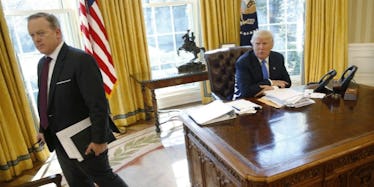 White House Blocks Media Outlets From Press Briefing In Unprecedented Move
Reuters
After he called the media the "enemy of the American people," President Donald Trump's conflict with what he dubs "fake news" continued in a shocking move today.
Instead of the regular daily Q-and-A sessions that take place in the White House briefing room, press secretary Sean Spicer held a gaggle in his office on Friday. A "gaggle" is an informal session that is not televised, but it is on the record.
CNN, the New York Times, BuzzFeed, the Los Angeles Times and Politico were denied access to the briefing.
Outlets that were able to attend include conservative publications Breitbart, One America News Network and the Washington Times.
NBC, ABC, CBS and Fox were also allowed to attend.
The Associated Press and Time boycotted the briefing because of the bar on the other media outlets.
CNN, who's reporters were told they were not on the list of attendees, released a statement that read:
This is an unacceptable development by the Trump White House. Apparently this is how they retaliate when you report facts they don't like. We'll keep reporting regardless.
Executive editor of the New York Times, Dean Baquet, wrote,
Nothing like this has ever happened at the White House in our long history of covering multiple administrations of different parties. We strongly protest the exclusion of The New York Times and the other news organizations. Free media access to a transparent government is obviously of crucial national interest.
Meanwhile, Ben Smith, the editor-in-chief of BuzzFeed News, said in a statement,
While we strongly object to the White House's apparent attempt to punish news outlets whose coverage it does not like, we won't let these latest antics distract us from continuing to cover this administration fairly and aggressively.
Barring publications that publish opposing viewpoints is a shocking attack against the free press. America does not need "friendly" press, it demands transparency.
Citations: Trump White House blocks media outlets from press briefing (Mashable)