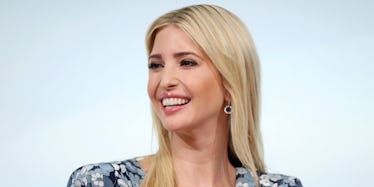 Is Ivanka Trump Going To The White House Correspondents' Dinner?
Getty Images
Though she's made a number of headlines in the weeks leading up to her father's first official White House Correspondents' Dinner as president (and one he infamously will not be attending), President Donald Trump supporters and critics alike are curious, where is Ivanka during the White House Correspondents' Dinner?
Instead of fostering ties with the media at the dinner, President Trump has instead made plans to commemorate the first 100 days of his presidency with a "BIG" rally in Pennsylvania, sidestepping an informal presidential tradition of fostering a working relationship between the presidential administration and the media (and, by association, the public).
Trump announced via Twitter (where else?) in February that he wouldn't be attending the White House Correspondents' Dinner (WHCD), but plans for his children were never formally announced. The expectations for Ivanka in particular remain incredibly high, given that Ivanka recently took a position in her father's White House as, she said in an official statement, an "unpaid employee," working "closely and in good faith with the White House counsel and my personal counsel to address the unprecedented nature" of her role.
And because Ivanka has oft been touted as the "bridge" between her father and female voters, curiosity on whether or not Ivanka will eschew her familiar support in favor of bridging the ever-growing gap between him and the media.
On Thursday, April 27, Ivanka attended the Fortune/U.S. State Department Global Women's Mentoring Partnership in Washington, D.C. The program, which works with women leaders from all over the globe between 25-43 to match them up with members of Fortune's Most Power Women Leaders, is a three-week long endeavor.
The White House has yet to return a request for comment made by Elite Daily on whether Ivanka will attend the White House Correspondents' Dinner as her father's surrogate, but it seems most likely that she'll head to Harrisburg with the rest of her family in support of her dad's big rally.
If she were to attend the WHCD, chances are she would've made that info. public by now. Earlier in the day on Saturday, April 29, Trump tweeted:
Ivanka has long been an outspoken advocate of her father's policies, but she's recently offered a differing viewpoint from her dad. In an interview that aired on NBC News about Syrian refugees on April 26, Ivanka said: "I think there is a global humanitarian crisis that's happening, and we have to come together, and we have to solve it," but she remained pretty vague about how to do so.
When probed on whether or not the solution sat in opening America's doors to refugees, Ivanka's messaging was also vague: "That has to be part of the discussion, but thats not going to be enough in and of itself."
In an earlier April interview with Gayle King, Ivanka went so far as to spell out just how her politics differ from her dad's in an attempt to clarify whether or not she's complicit with his controversial policies. Discussing how her silence does not exactly equate her support, Ivanka was frank about how she communicates her politics to her dad:
In some case it's through protest and it's through going on the nightly news and talking about or denouncing every issue in which you disagree with. Other times it is quietly, and directly, and candidly. So where I disagree with my father, he knows it, and I express myself with total candor. Where I agree, I fully lean in and support the agenda and hope that I can be an asset to him and make a positive impact. But I respect the fact that he always listens. It's how he was in business. It's how he is as president.
But on a night when it's all eyes on the fact that Trump is the first president since 1981 to skip the WHCD, it's Ivanka's silence that speaks far louder than her words.
Citations: CBS News, Fortune, The Daily Beast, Washington Post