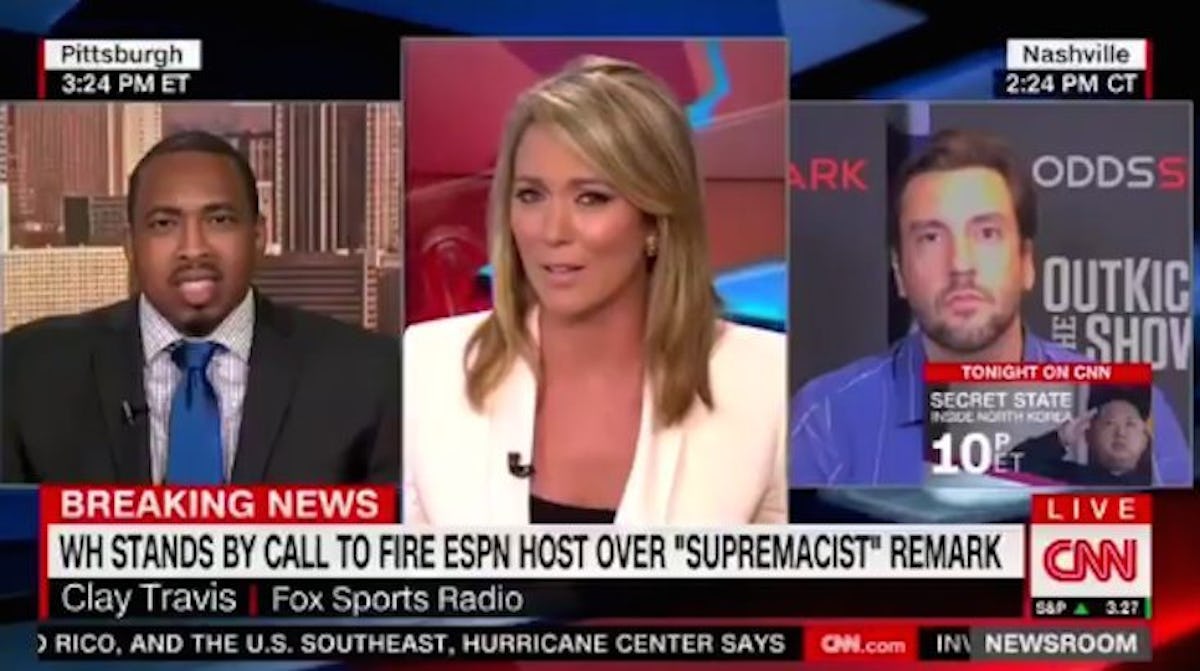 Well, Here's A Video Of A Man Talking About Boobs On CNN If You Needed A Hate-Watch
CNN
For some unknown reasons, sports journalist Clay Travis felt it necessary to bring up "boobs" while commentating as a guest on CNN on Friday, Sept. 15. It wasn't even close to relevant to the conversation, as video of Travis' "boobs" comment shows. Travis was a guest, along with former ESPN senior editor Keith Reed, on a CNN segment hosted by Brooke Baldwin. They were supposed to be talking about ESPN journalist Jemele Hill, who's been in the spotlight for comments on President Donald Trump, when Travis brought up "boobs," shocking the anchor and Reed.
Hill has been a topic of discussion this week after she tweeted personal thoughts about Trump -- namely, that "Donald Trump is a white supremacist who has largely surrounded himself w/ other white supremacists" -- on Monday, Sept. 11. ESPN then made her apologize on Monday night, issuing a statement to make it clear that her comments "do not represent the position of ESPN." This apparently wasn't enough to comfort the president. On Wednesday, White House Press Secretary Sarah Huckabee Sanders said Hill's tweets should constitute "a fireable offense by ESPN." The president himself tweeted on Friday morning that ESPN should "apologize for untruth!"
You'll notice that nowhere in that rundown of the past week's events was there mention of the word "boobs" or anything remotely to do with "boobs" -- aside from completely irrelevant anatomical facts about key players in the story. Nevertheless, Travis, a man, persisted in finding a way to bring "boobs" into a conversation about Hill, ESPN, and accusations that President Trump is a white supremacist who surrounds himself with other white supremacists.
Many have made the Hill situation into a free speech conversation -- which it is! And that, presumably, is how we end up at this CNN segment on Friday.
"I'm a First Amendment absolutist," Travis says. "I believe in only two things completely: The First Amendment and boobs."
He giggles a little at his own joke and tries to keep talking, but Baldwin and Reed's facial expressions show he's not getting away with that ridiculous phrase. Watch it go down yourself:
Travis tries to keep making his point, but he incidentally made a far more important point with what he expected would be a throwaway, jokey line about "the First Amendment and boobs." That point is that, clearly, many men still lack respect for women, a point which Baldwin dug into in her reaction to him.
Baldwin cuts him off and makes him repeat the line, saying she "just wants to make sure I heard you correctly as a woman anchoring this show." He digs in on his remark, saying the First Amendment and boobs are two things that have never let him down. Baldwin is flabbergasted.
"Why would you even say that live on national television and with a female host?" she asks. See that part go down:
Reed says he's "not going to talk about that on national television because it's irrelevant to the topic," trying to get the conversation about Hill and ESPN back on track. He voices his support for Hill and Baldwin as women in their careers.
But Baldwin does what any woman should do when blatantly disrespected: She shuts it down.
"I'm done," she says. "This is done. This is conversation over, yanking mics. Uh... bye."
Once Travis made that comment -- and then had the gall to dig deeper, giggling like sexism is some kind of a f*cking joke -- there was no more conversation to be had. Baldwin was right about that. Once he showed her -- and women everywhere -- that kind of blatant disrespect, it was clear there was no point in talking to him, in my opinion. It's a good lesson to take with you.
Baldwin tweeted after the segment that she was just shocked, and reiterated that inane comments about women's bodies are not OK for any man to make.
Let's hope men hear that message loud and clear. Shut it down.