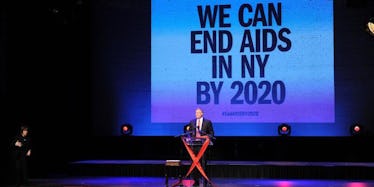 Three Simple Ways We Can Help Build An AIDS Free Generation
Getty Images
Tuesday, December 1, is World AIDS Day, which has been observed every year since 1988.
It's the first ever global health day, established in honor of those who've been lost to the syndrome and to exhibit solidarity with those currently fighting it.
Today is #WorldAIDSDay! Let's honor this day by spreading love, awareness and acceptance around the globe ❤️ — Elite Daily (@EliteDaily) December 1, 2015
At present, it's estimated there are around 36.9 million people across the world living with HIV, including around 2.6 million children, and around 1.2 million in the US.
Q: How many people are living with #HIV? A: 36.9 million https://t.co/M4OmHKIeTt #WorldAIDSDay — WHO (@WHO) December 1, 2015
Globally, we've made great progress in combatting the virus. Since 2000, new HIV infections have dropped 35 percent and AIDS death rates have declined 42 percent since 2004.
This is largely a product of the globe's collective efforts to address the epidemic.
When AIDS was first discovered in the 1980s, it was a death sentence.
Now, however, there are medications available (known as antiretroviral therapy or ART) that help treat the HIV infection and prevent it from progressing to AIDS.
The World Health Organization reports there were around 15 million people receiving ART by the end of 2014.
Due to these developments, among other advances, the life expectancy of people who contract HIV is now relatively normal.
But there is still a great deal of work to be done if we hope to build the first AIDS-free generation in three decades. Around 34 million people have died from AIDS-related causes, and we can all do our part to honor their memory by making the effort to prevent future deaths.
Let's commit to an AIDS-free generation: invest in research, fight discrimination, and expand access to lifesaving drugs. #WorldAIDSDay -H — Hillary Clinton (@HillaryClinton) December 1, 2015
Here are three simple ways we can all help build an AIDS-free generation.
Use protection and get tested!
You've probably heard this over and over, but using protection (condoms) and getting tested for sexually transmitted diseases is vital to preventing the spread of HIV.
It's true there are available medications that can help make HIV manageable in the present day, but it's also true many people aren't aware they're infected. In the US, it's estimated one out of eight people living with HIV are completely unaware. That means over 150,000 people in the US don't know they have HIV.
The fact we can now limit the impact of HIV does not mean we should not do everything we can to ensure it doesn't spread. Using protection and getting tested are vital to these efforts.
Knowledge is power and getting tested is simple and easy. There are many places across the country where you can receive free, confidential and fast STD testing.
Learn the facts and spread awareness!
World AIDS Day is the perfect time to speak about HIV/AIDS, but so is any other day of the year.
Today is #WorldAIDSDay – a time to reflect on our progress & raise awareness to move us closer to an AIDS-free generation. — Chris Van Hollen (@ChrisVanHollen) December 1, 2015
If we are going to deliver an AIDS-free generation, we need to spread awareness in order to prevent new infections and help people with HIV find treatment.
Q: What is #HIV? A: https://t.co/M4OmHKIeTt #WorldAIDSDay pic.twitter.com/Yi1zkKHiug — WHO (@WHO) December 1, 2015
We can't afford to forget how bad things were in the 1980s and 90s before the world mobilized and made a concerted effort to quell the AIDS epidemic.
Did you know that 2,600,000 youth are living with HIV? Get the facts at https://t.co/hsnq2qXHgi #WorldAIDSDay pic.twitter.com/2NAFJ9TDou — HumanRightsCampaign (@HRC) December 1, 2015
Take time to learn the facts and don't be afraid to talk about them. One conversation could end up saving lives.
End the stigma!
We need to end the stigma surrounding HIV/AIDS. The prospect of dying from the virus is terrifying, but the fact of the matter is it's both preventable and treatable. Plenty of people with HIV live completely normal lives.
You can only contract HIV via direct contact with certain fluids from an HIV-infected person: blood, semen, pre-seminal fluid, rectal fluids, vaginal fluids and breast milk.
People living with HIV/AIDS should not be stigmatized and ostracized, they should be supported and treated.
On #WorldAIDSDay, we remember these words from Princess Diana that still ring true: pic.twitter.com/TSickVRWKq — TODAY (@TODAYshow) December 1, 2015
If we truly want to deliver an AIDS-free generation then we have to stand with those it's already impacting directly.
This is a fight we can win, but it won't happen overnight and will require everyone's involvement.
Citations: World AIDS Day 2015 (CDC), 10 facts on HIV AIDS (WHO), Global statistics (AIDS gov), The HIV AIDS pandemic explained in 9 maps and charts (Vox), HIV Treatment (NIH), UNAIDS announces that the goal of 15 million people on life saving HIV treatment by 2015 has been met nine months ahead of schedule (UNAIDS), More than 1 in 8 Americans infected with HIV dont know it (LA Times)