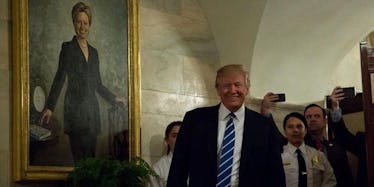 Way Too Many Trump Voters Think He Actually Won The Popular Vote When He Didn't
Aude Guerrucci-Pool/Getty Images
Nearly half of people who voted for President Donald Trump during the 2016 general election believe Trump won the popular vote over Hillary Clinton, according to a new poll.
The poll found that 49 percent of respondents who said they voted for Trump believe he received more individual votes overall than former Democratic challenger Hillary Clinton (i.e., the popular vote). The poll was conducted by Politico between July 20 and July 24. Nearly 4,000 registered voters were surveyed.
Trump, of course, did not win the popular vote. Clinton received nearly 3 million more votes than Trump, in fact, according to the Federal Election Commission, an independent government agency.
Trump, however, has insisted on several occasions that the popular vote tally is wrong, and that he, in fact, won the popular vote. Last November, several weeks after he won the election, the then president-elect tweeted.
In addition to winning the Electoral College in a landslide, I won the popular vote if you deduct the millions of people who voted illegally.
Last Friday, July 21, the White House's newly hired communications director Anthony Scaramucci offered subtle support Trump's claim of "millions" of illegal voters.
Scaramucci, who's hiring prompted the resignation of Sean Spicer, told reporters,
So if the president says it, let me do more research on it. My guess is that there's probably some level of truth to that.
Neither Trump nor Scaramucci have offered any evidence to suggest the existence of widespread illegal voting, never mind millions of illegal votes.
While Politico's poll might be received as a sign that Trump's evidence-less version of events has been taken at face value by some of his voters, the whole of the survey suggests an overall problem: widespread facts may not be as widespread as we think.
According to the poll, 14 percent of respondents who say they voted for Clinton say she won the electoral college. That, needless to say, is just as baseless a belief as the idea that millions of people were able to vote illegally.