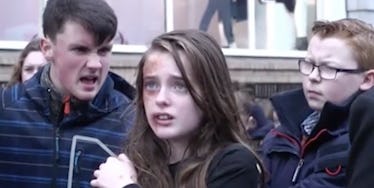 Viral Video Capturing Brutal Life Of Child Brides Is Breaking Internet's Heart
Plan International
Over 100 girls in Ireland recently took part in a viral video that has a chilling message about the plight of refugees.
The girls participated in a mannequin challenge on South King Street in Dublin that highlighted the fact that many young female refugees end up as child brides.
In the video, which was organized by the child rights' organization Plan International Ireland, a number of the young girls are accompanied by older men to acknowledge the fate of many young refugee girls.
The video states,
As refugees, girls are more likely to be caught in a vacuum of violence, early marriage and denial of education. Refugee girls are too often invisible. Their voices lost.
In refugee camps in Jordan, Lebanon and Turkey, young girls are often forced into early marriages as their families attempt to shield them from poverty and sexual exploitation, according to analysts.
It's a product of desperation that comes from being placed in a terrible and extreme situation.
According to the UN Population Fund,
Child marriage is a human rights violation. Despite laws against it, the practice remains widespread, in part because of persistent poverty and gender inequality. In developing countries, one in every three girls is married before reaching age 18. One in nine is married under age 15. Child marriage threatens girls' lives and health, and it limits their future prospects. Girls pressed into child marriage often become pregnant while still adolescents, increasing the risk of complications in pregnancy or childbirth. These complications are a leading cause of death among older adolescents in developing countries.
We are currently witnessing the worst refugee crisis of our era.
There are over 65 million forcibly displaced people and approximately 21.3 million refugees worldwide.
Every single day, over 30,000 people are forced to flee their homes because of conflict and persecution, the UNHCR reports.
At the moment, 10 countries host approximately half the world's refugees.
Wealthy nations are doing barely anything to help address this crisis.
Meanwhile, refugees continue to face a brutal reality, especially children.
They are robbed of an education, a future and, worst of all, hope.
Watch the powerful, but disturbing video, on child brides below.
Citations: Powerful video reveals brutal reality of life for child brides and refugee girls (Metro)