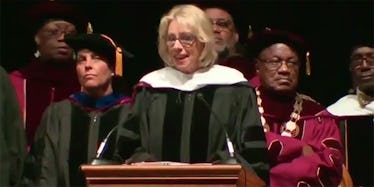 Video Of Betsy DeVos' Getting Booed At HBCU Graduation Will Make You Cringe
Twitter
They turned their backs on Betsy DeVos, literally.
"They" would be the graduating students at Bethune-Cookman University's commencement ceremony on Wednesday afternoon.
As DeVos, the US Secretary of Education, delivered her keynote address, video emerged on Twitter showing a noticeable number of students standing with their backs turned away from the speaker.
The demonstration at B-CU comes just a day after a petition of over 60,000 signatures was delivered to the office of the school's president asking for Secretary DeVos to be removed as keynote speaker.
Both students and alumni had expressed discontent with the invitation extended to DeVos for a variety of reasons, mainly including her mischaracterization of HBCUs as "pioneers of school choice," for she later apologized.
Given the amount of opposition to the idea of DeVos as keynote speaker, it'd become apparent by Tuesday that some form of protest would be likely.
One graduating senior told Elite Daily,
We work too hard for our special day to be about who is speaking. The graduates should be getting all the attention not her.
The school's administration did not relent, however, and by Wednesday afternoon, it was clear that a good deal of attention would indeed be given to DeVos' controversial speech at the ceremony.
Upon being introduced by school president Ed Jackson, the secretary was booed.
Betsy DeVos getting booed at Bethune-Cookman commencement. Yikes. pic.twitter.com/69LYNF3LpT — Joseph Milord (@JoeMilord) May 10, 2017
Meanwhile, multiple attendees captured footage of DeVos receiving jeers through the delivery of her address
Not all of graduating students turned their backs, however.
But, as photos show, a more than noticeable amount did.
During Wednesday's press briefing at the White House, Deputy Press Secretary Sarah Huckabee Sanders said DeVos was "honored" to be invited to Bethune-Cookman address the graduating class.
Rightly or wrongly, it's now clear a good number of the graduates themselves were not honored to have her.