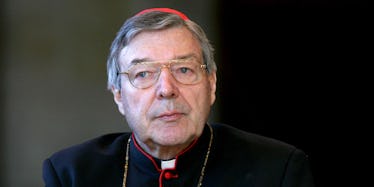 Vatican Cardinal Charged With Multiple "Historic" Sex Offenses By Australian Police
World Youth Day via Getty Images
On Wednesday, June 28, an Australian cardinal was charged with multiple counts of sexual assault, the highest ranking Vatican official to ever be charged in the Catholic Church's sex abuse scandal.
Australian police confirmed that Cardinal George Pell, who is Pope Francis' chief financial advisor as well as the most senior member of the Catholic Church in Australia, had been summoned to face multiple charges of "historical sexual assault offenses," the Associated Press reported. The term "historical" refers to offenses that happened in the past. Elite Daily has reached out to a representative of the Vatican for comment and will update this story with any reply.
Victoria Police Deputy Commissioner Shane Patton said in a press conference that there were multiple complainants associated with the charges.
He also added that Pell had been treated according to "common and standard practice," and emphasized that Pell had the right to due process. Patton did not offer any further details about the nature of the allegations and charges.
Pell had been criticized for his handling of sexual abuse allegations during his time as a leader of Australia's Catholic community, The Sydney Morning Herald pointed out the same day as the charges were announced. He testified in a 2016 investigation that he had missed warning signs of abuse by priests in the 1970s, saying that he was "unaware" of the worst claims, and in 1996, he was involved with creating a guideline for the Church in responding to claims of child sexual abuse, which capped damage payments and was criticized as "discouraging lawsuits."
In 2002, Pell was himself accused of sexual assault, which he denied, and a judge ruled the allegations unsubstantiated.
Pell, who is based in the Vatican in Rome, has been summoned to appear in an Australian court on July 18. The Sydney archdiocese confirmed to the AP on Wednesday that Pell would travel to Australia to fight the charges.