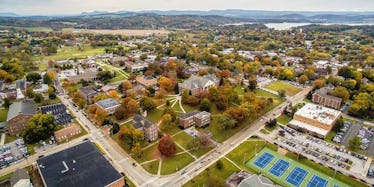 A University In Tennessee Was Granted The Right To Ban LGBTQ Students
The federal government reportedly granted Carson-Newman University in Tennessee a waiver that will allow it to discriminate against certain groups.
This decision effectively exempts the university from Title IX and allows it to ban LGBTQ students, unwed mothers, women who've had abortions and perhaps even pregnant students, WVLT reports.
Title IX, passed in 1972, is a comprehensive federal law prohibiting "discrimination on the basis of sex in any federally funded education program or activity."
Carson-Newman University President Dr. Randall O'Brien was recently interviewed about this development by WVLT.
O'Brien claimed he filed the waiver based on advice from his lawyer, who said it would strengthen the university's position as a Christian university. O'Brien said,
This is who we are as a Christian university. These are our religious principles and in a changing world, we would like to reaffirm that this is who we are and who we intend to be.
But President O'Brien also struggled to explain why this was necessary. When WVLT anchor Lauren Davis asked him if the university planned to discriminate, he said,
I don't know how it would be.
Davis followed up and asked, "Why file the waiver then?" O'Brien replied,
That's a good question. I believe [my lawyer] felt it would strengthen our position in relation to First Amendment rights. I don't really know why something would be necessary beyond that, but that was his counsel and since he's an expert in the field we followed the template.
In essence, it seems the president of this university blindly asked the federal government for the right to discriminate.
The lawyer who advised O'Brien to push for exemption from Title IX reportedly helped around a dozen other Christian schools around the US file religious waivers.
At least 27 religious colleges were granted waivers in 17 states over the past 18 months, The Column reports.
It's 2015, and apparently many feel the need to fight for the right to discriminate against already marginalized groups.
Citations: Carson Newman University granted exemption from discrimination laws (WVLT)