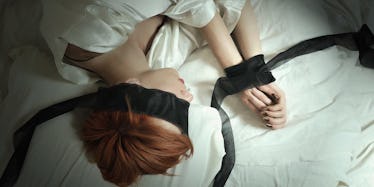 The Unexpected, Ugly Connection Between The Super Bowl And Sex Trafficking
The Super Bowl is one of the most celebrated events in American culture. It's really more of a holiday than an athletic contest. Last year alone, 111.5 million people watched the game, making it the most-viewed program on television.
Yet the game, the advertisements, the halftime show and the millions of viewers also mask an abhorrent and sinister practice: sex trafficking. At least that's what many politicians and advocates claim every single year prior to the big game.
In 2011, Texas Governor Greg Abbott, who at the time was the Texas Attorney General, told USA Today:
The Super Bowl is the greatest show on Earth, but it also has an ugly underbelly. It's commonly known as the single largest human trafficking incident in the United States.
Last year, not long before Super Bowl XLVIII at MetLife Stadium in New Jersey, Governor Chris Christie announced a law enforcement crackdown on sex trafficking and prostitution. As a result of these efforts, at least 45 people were arrested and 16 juveniles were rescued in a two-week period before the game.
In anticipation of this year's Super Bowl, held in Arizona, Cindy McCain came forth and contended the Super Bowl is "the largest human-trafficking event on the planet." Speaking with ABC 15 Arizona in November, she argued the Super Bowl is "a party atmosphere. And I'm afraid that's [sex trafficking] a part of the element in all of this."
Likewise, some reports claim up to 10,000 prostitutes were brought to Miami for the 2010 Super Bowl. Others predict the numbers could be even higher in Arizona this February.
All of these assertions and statistics are quite disconcerting.
Some Argue It's Misleading To Associate Sex Trafficking With The Super Bowl
There's an evident debate over whether or not the available numbers accurately support the claim that the Super Bowl is the largest human-trafficking event in the world.
Bradley Myles, CEO of the anti-trafficking organization Polaris Project, states:
It is important to know that there isn't much evidence linking the Super Bowl to a major rise in trafficking. Although there is a market for commercial sex around the time of the Super Bowl, this market demand exists 365 days a year. It could be there at any event where masses of people descend upon a specific city or region, and it is also there on any average day when no big sporting events are taking place. Human trafficking exists everywhere, from rural towns to large cities, and in every U.S. state - anywhere a trafficker can make a profit by exploiting vulnerable people.
In other words, some feel placing so much hype on sex trafficking in relation to the Super Bowl is both a distraction and hyperbolic. They worry law enforcement resources are misallocated as a consequence.
In some ways, it feels as if they're accusing politicians of taking advantage of the Super Bowl spotlight in order to look tough on a crime that's condemned around the world. There is probably some truth to all of this, and it's pretty difficult to argue against the notion we could do more to combat human trafficking
We could all do a better job in terms of educating ourselves and spreading awareness on this issue. Even if the Super Bowl isn't one of the biggest sex trafficking nights of the year, as some argue, it's positive that such a massive event brings attention to an often overlooked problem.
We need to remember sex trafficking is an everyday problem, but advocates should also recognize the educative potential of the Super Bowl in this regard.
The first step toward solving a problem is recognizing there is one. And any discussion of sex trafficking during the Super Bowl should be about how massive the issue is in general.
Sex Trafficking Is A Problem 365 Days A Year, Not Just During The Super Bowl
Regardless of the actual statistics surrounding sex trafficking and the Super Bowl, it's still a problem on the night of the Big Game because it's happening every single day of the year. 
Not to mention, in addition to sex, people are also trafficked for labor. Traffickers use a number of methods, including force, fraud or coercion to control other people in order to enslave them for purposes of sex and labor.
Human trafficking also impacts multiple industries, including, but not limited to: domestic work, agriculture, restaurants, construction, hospitality, fairs, carnivals, factory work and assisted living.
It's a form of modern day slavery impacting the entire world, including the United States:
Human trafficking is a $150 billion global industry providing a steady source of income for organized crime and terrorist organizations.
This disgusting crime against humanity persists because there continues to be a demand for it, and because it occurs in the shadows. And it's a hard world for victims to escape. Even when they do, they're often treated as criminals, particularly due to the stigma attached to prostitution.
In order for human trafficking to end, we need to have an open and honest conversation about it. We can begin this process by highlighting some of the key statistics surrounding this horrendous industry:
- The International Labor organization estimates there are close to 30 million victims of human trafficking across the globe. - At least 5.5 million victims of human trafficking are children, and 55 percent are women or girls. - Human trafficking occurs in all 50 states and Washington DC. - The Department of Justice estimates 300,000 children are trafficked for sex in the United States every single year. - The average age for a child to enter into prostitution is 14 to 16. - Pimps can make $150,000 to $200,000 per child each year, and they typically have four-to-six child prostitutes each (usually girls). - Human trafficking is a $9.5 billion industry in the US.
Obviously, it's a massive problem we cannot ignore. It's an inherently evil practice that helps fuel other criminal pursuits, and it must be stopped. What's more, it's probably happening right under your nose, perhaps even in your neighborhood.
There is certainly nothing wrong with having a conversation about human trafficking via the Super Bowl -- it's a fantastic opportunity to engage millions of people. Yet, any discussion surrounding this issue must highlight the scale and scope of the problem beyond the night of the Super Bowl or nothing will ever change.
If you or someone you know is a victim of human trafficking, reach out to the National Human Trafficking Resource Center at 1-(888)-373-7888.
Citations: Super Bowl 2014 Ratings How Many People Watched The Seattle Seahawks Vs Denver Broncos (International Business Times ), Super Bowl Is Single Largest Human Trafficking Incident In US (Huffington Post), Sex And The Super Bowl Indianapolis Puts Spotlight On Teen Sex Trafficking (Forbes), Child sex rings spike during Super Bowl week (USA Today), Super Bowl And Human Trafficking What You Need To Know (Huffington Post), Super Bowl Is Largest Weekend in US Prostitution Advocates Say (ABC News), 45 arrested 16 juveniles rescued in Super Bowl prostitution bust (Reuters), Super Bowl XLVIII and Human Trafficking An Outdoor Campaign Connects the Two (Forbes), New Jersey Gov Chris Christie says police will enforce sex trafficking at Super Bowl (Yahoo Sports), Human Trafficking (Polaris Project), Human Trafficking (FBI), Selling Lies (Urban Institute ), ILO says forced labour generates annual profits of US 150 billion (ILO), The FBI Just Rescued 168 Kids Who Were Being Trafficked For Sex In America (Think Progress ), Sex Trafficking Is More Local Than Believed (Chicago Tribune), Sex Trafficking at the Super Bowl Its a Problem Every Day (Huffington Post), Not enough is being done to combat sex trafficking during Super Bowl XLIX (Medium ), The Super Bowl and Sex Trafficking (The New York Times), Human trafficking growing as Super Bowl in the Valley nears (ABC Arizona ), McCain raising awareness of human sex trafficking during Super Bowl (ABC Arizona)