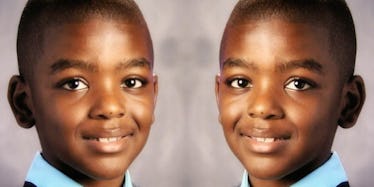 9-Year-Old Boy Shot And Killed In Chicago Was Targeted By A Street Gang
On Monday afternoon, Tyshawn Lee was walking to his grandmother's house in Chicago when he was lured into an alley, shot and killed. He was just 9 years old.
HE HAS A NAME: 9 year old, TYSHAWN LEE, was fatally shot on his way to his grandmother's house today in Chicago. pic.twitter.com/EQYkhL4baN — Michael Skolnik (@MichaelSkolnik) November 3, 2015
It's now come to light Lee's death was a result of a war between two street gangs, and he was targeted due to his father's connection with one of the gangs, The New York Times reports.
Garry McCarthy, superintendent of the Chicago police, said,
We believe that Tyshawn was targeted, lured to this spot and murdered. We know the two groups. We know the individuals involved in both groups. And proving who did what is where we are right now.
McCarthy described Lee's murder as "probably the most abhorrent, cowardly, unfathomable crime that [he'd] witnessed in 35 years of policing."
Lee's father, Pierre Stokes, reportedly contended he has no connection with the killing. But he's also apparently not being cooperative with investigators.
Police questioned and released one person of interest, who reportedly refused to talk. McCarthy said they have also spoken to witnesses, but are appealing for more to come forward.
As The New York Times highlights, witnesses might be wary of cooperating for fear of retribution.
With that said, there's a $35,000 reward for anyone who can provide information that helps police solve the case.
Chicago has long had a reputation for violence. This year alone, Chicago witnessed over 2,500 people fall victim to gun violence along with 391 murders, including 40 children, CBS News reports.
But Lee's death is one of the most tragic and despicable crimes to occur in the city in recent memory.
He was an innocent 9-year-old boy killed in cold blood. Let's hope those responsible for his murder are swiftly brought to justice.
Citations: Boy 9 Was Pawn in Gang War, Chicago Police Say (The New York Times), Nine year old boy is latest victim of Chicago gun violence (CBS News)