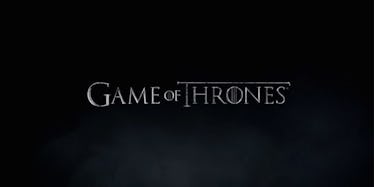 People Want This 'GOT' Character As President Instead Of Current Candidates
HBO
The American people have spoken, and they want Tyrion Lannister to be the next president of the United States. Well, at least more than the current front-runners, Hillary Clinton and Donald Trump.
In a recent poll conducted by SurveyMonkey, participants were asked,
How do the leaders of the Seven Kingdoms poll against this year's presidential candidates?
Peter Dinklage's witty, drunken and cynical "Game of Thrones" character garnered 24 percent of the votes (out of 2,045 total participants) and tied with Senator Bernie Sanders in first place.
Tyrion also gained the most bipartisan support in the poll. He's the one person who could end the political strife plaguing America!
The "Game of Thrones" character received a fairly even split across partisan and ideological lines. Meanwhile, more conservatives voted for Trump than any other group, and the vast majority of Sanders supporters were liberal.
This all makes a lot of sense. When you think about it, the US presidential election is a lot like "Game of Thrones." In both, there are a number of different characters battling for a single powerful position, all willing to do whatever it takes to get there. To survive in either race, you have to be a potent mixture of clever, tough and ruthless.
Tyrion definitely possesses all of these qualities and is a fan-favorite for his cunning ways and willingness to fight for what is right in a corrupt and dark world. We could definitely use someone like him in the White House (but we'd have to lock the wine cellar).
He might be short in stature, but Tyrion makes up for it with his intrepid spirit.
Tyrion for president! He already has a perfect campaign slogan:
A Lannister always pays his debts.
Makes you wish "The Imp" was a real person -- then maybe he'd save us from this debacle of a presidential election.
At least "Game of Thrones" returns to HBO for its sixth season on April 24. We can all take comfort in that.
Citations: More choose Tyrion Lannister for President over Hillary Clinton & Donald Trump (SurveyMonkey)