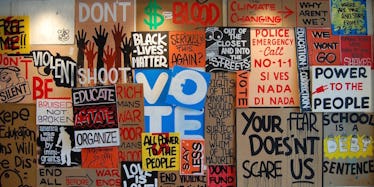 11 Pieces Of Art That Perfectly Sum Up Everything Wrong With America Right Now
Rock the Vote is hosting "Truth to Power," a platform of artists and activists, outside the Democratic National Convention in Philadelphia this week.
In addition to panel discussions, it has a massive pop-up art gallery, featuring works by Shepard Fairey, Banksy and Keith Haring.
The works are all political and address an array of issues facing the United States, from discrimination against women to police killings of black men.
Luis Calderin, Vice President of Marketing and Creative for Rock the Vote, told Elite Daily the pieces are meant to inspire dialogue about tough issues.
I hope it's uncomfortable.
Calderin said,
It's no longer enough to have a painting of a candidate as a superhero, and that person's going to solve all our problems. That has not proven to be true. In the end, the art that we have here is talking about issues and we as Americans are the only ones that can solve our own issues through our power in voting.
Check out some of the powerful pieces.
Real talk.
Right on.
"Destroy Patriarchy" by Carol Zou.
Recalling Emma Sulkowicz's mattress performance.
"Festive" piñatas.
"Patrol Guard Piñatas" and "Mounted Guard Piñata" by David Freeman.
This incredible hanging installation is seen differently when you look at it from another side.
"Identity Crisis" by Michael Murphy.
This one lit up continuously with flashing lights.
"Police Flag" by Blake Fall-Conroy.
A series of paintings on black American life and the police.
Series by Michael D'Antuono.
A painting of Eric Garner's death at the hands of police.
"I Can't Breathe / The Death of Eric Garner" by Bill Dunlap.
Black Lives Matter.
Series by American Queen TJD.
Necessary in these times.
"Can I Get A Witness" by Nafis White.
This piece, "...and counting," is still evolving.
"...and counting" by Ann Lewis features body bag tags with the names and information of all the people who have been killed by police so far this year.
But as more people are killed, Lewis adds more tags and more information.
The piece was installed on Friday and Saturday. On Monday, the artist added seven more names and is waiting for information on other people who died at the hands of police.
Lewis said that less than 10 percent of the people killed were women. Most were white, but that's mostly because there is a high population of white people in America, she said. In terms of percentage when compared to the general population, black people are highest on the list, followed by Native Americans and Hispanics.
Lewis told Elite Daily that a high proportion of people killed were armed. Many were suicides by police and many involved mental health issues. She hopes the piece will make people think differently of how we deal with mental health and gun control.
Lewis (pictured above) was wearing a doctored version of a National Rifle Association shirt, which she had fixed to read "National Rile Association."
The piece will next be shown on New York's Governors Island in August. She is planning on letting visitors add more names as more people are killed.