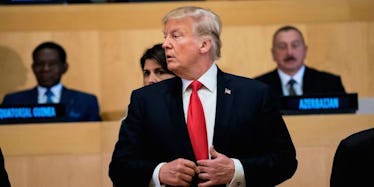 A tense week awaits as world leaders debate big issues at the United Nations assembly.
BRENDAN SMIALOWSKI/AFP/Getty Images
On Monday, Sept. 18, President Donald Trump made his first appearance at the United Nations as president, and his opening speech set the precedent for a more than interesting week for the 193 members gathering at the United Nations General Assembly. U.S. ambassador to the U.N. Nikki Haley introduced him by telling the assembly that the American president sees "tremendous potential" in the U.N. – an institution that has accomplished tremendous global reform and change for 72 years and counting, without his counsel. Trump began his speech by saying the U.N. "had not reached its full potential" in recent years due to its priorities. As U.N. Secretary General António Guterres sat beside him, Trump went on to say, "That's why we commend the secretary general and his call for the United Nations to focus more on people and less on bureaucracy."
Trump's opinion of the United Nation's agenda and effectiveness is no surprise to his Twitter followers. Back in December 2016, not long before President Trump was sworn in, he disregarded the United Nations on Twitter as "just a club for people to get together, talk and have a good time." And Trump isn't the only one to have fueled the fire to a tense relationship.
Just last month, U.N. human rights chief Zeid Ra'ad al-Hussein reprimanded Trump's attack on the news media and his continued claims of "fake news" as a bad example to other countries that may incite violence. Furthermore, during a news conference on Monday, France's foreign minister Jean-Yves Le Drian described the tension as high with Trump's arrival to the U.N.
"Never since the end of the Cold War have dissensions, tensions, the level of conflict been so high in a world that is more interdependent than ever," the French foreign minister said, according to The New York Times.
Trump's initial speech had no mention of any key issues to be addressed later this week, so we can only anticipate what is to come in the following days. Quite a bit of controversial discussions are to happen regarding topics like climate change, North Korea, and the Iran nuclear deal. Considering both Trump's apathetic approach towards climate change and that the theme of this year's general assembly is "Sustainable Development and Protecting the Planet," we are likely in for a treat.
The first topic of tension is climate change. In June, Trump expressed publicly his intentions of withdrawing from the Paris Climate Accord, an agreement among world leaders to fight against greenhouse gas emissions and pollution. However, there have been conflicting reports of whether or not Trump still plans to withdraw quickly or wait to do so "under the right conditions." This isn't the first time that Trump has appeared to spearhead plans of action only to apparently go soft on carrying out such orders.
The next hot topic at the assembly will happen on Wednesday: North Korea and the future of nuclear weapons. Many U.N. members are expected to sign a treaty prohibiting all nuclear weapons that was created in July and are hoping to get as many governments involved as possible on Wednesday. Not-so-suprisingly, the North Korean leader, Kim Jong-Un, will not be in attendance for the signing or the assembly at all. Jong-un has continued to defy the United Nations Security Council resolution to ban the testing of atomic bombs and ballistic missiles, with his most recent missile launch happening last Friday.
The last tense topic to watch out for is the fate of the Iran nuclear deal, which was negotiated and agreed to by former President Barack Obama in 2016 with the five other countries that make up the U.N. Security Council. While Trump has currently decided to remain apart of it, there is no telling if debates regarding the Iran's nuclear activities will change the president's mind.
President Trump met with Israeli prime minister Benjamin Netanyahu to discuss the U.S. withdrawal from the deal. Trump has warned that he will walk away from the deal if the International Atomic Energy Agency does not toughly monitor it, while Iran claims that U.S. hostility poses as the biggest threat to the nuclear agreement.
While the relationship between some leaders and governments may seem unsettling now, many crucial and globally-impactful decisions will be made and revealed this week at the United Nations General Assembly.