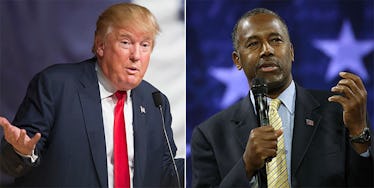 Donald Trump Made A Bizarre Video About Ben Carson For Friday The 13th
Getty Images
On the heels of a truly ridiculous rant in Iowa Thursday night, Donald Trump released what looks like a trailer for a new "Friday the 13th" horror flick.
In Thursday's speech, Trump attacked Ben Carson, who's been sliding past him in recent Iowa polls (yes, Trump and Carson are currently leading the polls), calling Carson's childhood anger "pathological" and comparing it to that of a child molester, according to CNN.
Trump used his own belt buckle to show why Carson's much-questioned story -- a story about trying to stab a friend or relative as a child but failing because the knife hit the person's belt buckle -- can't be true.
Let's take a minute to go over why this whole thing is completely bizarre.
Carson has been forcibly defending his story that he did, in fact, try to stab someone close to him. His rivals, including Trump, in turn, called him out for not stabbing anyone.
Guys, they're mocking Carson for never stabbing anyone. Politics!
To be fair, it could be argued Carson's rivals are calling out Carson's lies, including the fact he didn't even apply to West Point when he said he was offered a full scholarship (to a $0 tuition school).
For his rebuttal, Carson is reportedly asking for prayers for Trump.
Citations: In 95-minute tirade, Trump flips belt buckle to mock Carson (CNN), Carson's comeback to Trump's insults: 'Pray for him' (Reuters)