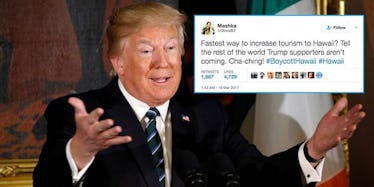 Hawaii Has Most Chill Response To Trump Supporters Who Want To Boycott State
REUTERS/Twitter
On Wednesday, a federal judge in Hawaii blocked President Donald Trump's revised travel ban, which targeted six predominately Muslim countries, before it could go into effect.
The first travel ban had already ran into massive legal obstacles, and it now appears the revised version will face similar hurdles.
In short, Trump's rocky relationship with the judiciary continues, and the fate of his travel ban is once again up in the air.
U.S. District Judge Derrick K. Watson wrote a 43-page opinion on this, part of which stated,
The illogic of the Government's contentions is palpable. The notion that one can demonstrate animus toward any group of people only by targeting all of them at once is fundamentally flawed.
Simply put, the judge felt there is clear evidence the president's travel ban intentionally discriminates against Muslims.
A lot of Trump supporters, unsurprisingly, are not happy about this, and say they're going to #BoycottHawaii.
Trump called the judge's ruling "unprecedented judicial overreach" at a rally in Nashville on Wednesday evening.
It appears many of his supporters fervently agree.
Some seem to believe Hawaii's distance from the mainland US means it shouldn't have a say in the direction of the country.
What does Hawaii know? I don't know. Maybe they learned something when Pearl Harbor was attacked and thousands of Americans died and the US was launched into World War II. Just a thought.
Hawaii continues to serve as a crucial base for America's military, so to act as if it's an entity that does nothing for the US is not only incorrect, it's arguably very unpatriotic.
Obama was also recently in Hawaii. So, start the conspiracy theories.
Naturally, since he's getting blamed for a lot these days, such as wiretaps and spying microwaves, some Trump supporters tried to connect him to the judge's decision.
Of course, many pointed out Hawaii will do just fine without Trump supporters.
If only Hawaii could've banned white imperialism in the 19th century, then we wouldn't even be having this problem.
People saying they are going to boycott Hawaii might think they're being patriotic.
In reality, they're buying into illogical fear, and looking very foolish in the process.
Citations: Federal judge in Hawaii freezes President Trump's new entry ban (The Washington Post)