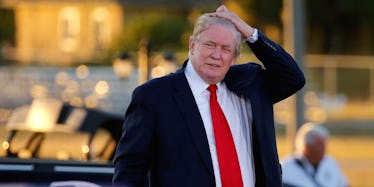 Trump Staff's Wild Strip Club Night Before Debate May Explain His Performance
REUT
Between calling Hillary Clinton a "nasty woman" and refusing to say whether he'd accept the election results, Donald Trump had an abysmal final presidential debate.
His poor performance could have something to do with the fact his campaign advisors reportedly spent the night before the debate hanging with members of the press at a strip club instead of using the time to prep Trump.
According to Page Six, the Trump campaign's senior communications adviser Jason Miller, senior adviser AJ Delgado and deputy communications director Jessica Ditto went to Sapphire Las Vegas Strip Club on the eve of the debate.
Apparently, Sapphire Las Vegas Strip Club is the largest strip club in the world.
They were reportedly joined by a CNN producer, an NBC News reporter and an ABC News cameraman, among other assorted members of the press.
This was definitely a questionable decision.
Donald Trump is easily one of the most controversial presidential candidates of all time, particularly regarding his treatment of women.
When you're working on a volatile campaign like that, it is probably best not to live by the rule, "What happens in Vegas, stays in Vegas."
While Trump has consistently argued the media is "rigging" the election in Hillary Clinton's favor, his advisors are still okay with hanging out with members of the press at a strip club.
On the night of the debate, Jason Miller -- who was allegedly at the strip club the night before -- reiterated the "rigged" election claim in a tweet.
At the moment, Clinton has a solid lead over Trump in the polls.
And Election Day is on November 8 -- yep, that's only 15 days away.
In the meantime, Trump's advisors might want to avoid spending their free time at strip clubs. The Republican presidential nominee could really use all the advice he can get.
Citations: Page Six