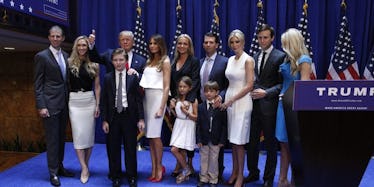 Secret Service Caught Taking Inappropriate Pics With Trump's Sleeping Grandson
REUTERS
Secret Service agents are under investigation for abandoning their post while they were supposed to be guarding Donald Trump III, the president's grandson.
Trump III, who is the 8-year-old son of Donald Jr and Vanessa Trump, was in a car last weekend being driven by two Secret Service agents when the incident took place, according to Mother Jones.
The agents were driving him from Westchester County, New York, where the Trumps have an estate, back to Manhattan.
While in the car, Trump III fell asleep, as children do. Then, the Secret Service agents allegedly began taking selfies with the sleeping child.
Trump's grandson woke up while the agents were taking selfies. He reportedly "freaked out," which I'd say is a good response to waking up to the people who are supposed to be protecting you instead taking pictures of you as you sleep.
Trump III got back to Manhattan and told his mother, Vanessa, about what had happened in the car. She told her husband, Donald Trump Jr, who, in turn, conveyed the incident to the Secret Service management.
The two agents had to report to Secret Service Office of Professional Responsibility in Washington DC.
The Secret Service confirmed to Mother Jones they are "aware of a matter involving two of our agents and one of our protectees."
A spokesman for the Secret Service said,
Our Office of Professional Responsibility will always thoroughly review a matter to determine the facts and to ensure proper, long-standing protocols and procedures are followed.
The spokesman added people should not "jump to conclusions that may grossly mischaracterize the matter." This part was likely added because allegations of taking selfies with a sleeping child are generally not seen in a good light.
For a group of people supposed to be protecting the most important person in America and his or her family, the Secret Service has seen more than its fair share of scandals over the years.
Just this past week, an intruder was able to get past security onto White House grounds.
Of course, there are human errors, but something like taking selfies with the president's sleeping grandson seems pretty avoidable.
Citations: Secret Service Agents Under Investigation for Taking Photos of Donald Trump's Sleeping Grandson (Mother Jones)