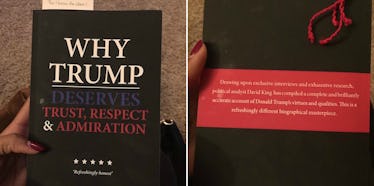 New Book On Why Trump Was A Great Pick For President Has Hilarious Twist
Twitter
While a portion of voters in the United States confidently support President-elect Donald Trump, there are a whole lot of people out there who didn't vote for the real estate mogul and reality TV star.
There are also plenty of people who don't know why they support Trump or even why they don't support Trump.
Luckily for those of us who remain utterly confused about the state of American politics right now, there is a newly-released book titled "Why Trump Deserves Trust, Respect and Admiration" by "political analyst" David King.
It's too bad this book wasn't available when this bald eagle showed DJT how he really feels...
The new book, which is being sold on Amazon for $7.99, gives curious readers plenty of reasons why President-elect Trump deserves to be respected and admired instead of despised and ridiculed.
But wait, there's a big, fat TWIST...
A Twitter user shared photos of the new Trump book, and the internet just can't get enough. Here's the cover.
I'll admit, this book is totally necessary.
I mean, the man is the president-elect of the United States -- people need to understand why he deserves the utmost support of the American people if we truly want to succeed as a nation.
Here's the back of the book...
What could go wrong?
PLOT TWIST: There are NO words in the book except for footnotes reading, "These blank pages speak a thousand words, but feel free to use for notes."
That's right, this literary work of art takes a strong jab at the Donald and everything he stands for because all of the pages are fucking BLANK.
This $8 masterpiece is basically just a notebook.
Here's the original tweet that went viral after racking up over 27,000 retweets and 43,000 likes.
And the crowd goes wild!
A few people wanted to make sure the book was actually empty.
The best part? The reviews, obviously.
So, if you need a notebook to jot down all of your deepest, darkest thoughts and you're totally fine with people thinking you're actually reading about why you should respect Trump, buy this book.
Citations: The book 'Why Trump Deserves Trust, Respect and Admiration' isn't what you think (Mashable)