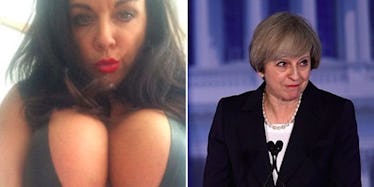 Trump Mistakes British Prime Minister For Porn Star In Awkward White House Email
Twitter Reuters
All it takes is one letter to completely change the meaning of sentence.
If you don't believe me, you can just ask Donald Trump.
Trump accidentally mistook a porn star for the British prime minister after the White House misspelled Theresa May's name in a press release on Friday.
White House administrators spelled Theresa May's name without the "h" when typing up a schedule for her meetings with the president, therefore causing some confusion over the true identity of the prime minister.
Unfortunately, the typo made it appear as if the prime minister was actually "Teresa May" the porn star.
If you're not familiar with Teresa May, she's a retired British glamour model and soft-core porn actress who has appeared in several adult films and a music video for the song, "Smack My Bitch Up" by Prodigy.
The spelling error first appeared in the introduction to the daily guidance and press schedule, which read, "In the afternoon, the president will partake in a bilateral meeting with United Kingdom Prime Minister, Teresa May."
If that's not bad enough, White House staff spelled her name incorrectly two more times when giving the details of her afternoon meeting with Trump, as well as her "working luncheon" with the president.
The document read, "The president participates in a working luncheon with Teresa May, Prime Minister of United Kingdom."
Staff later discovered the spelling error and issued a new schedule with the correct spelling.
However, that didn't stop many people from criticizing the Trump's administration on social media.
Apparently, the misspelling of May's name isn't the only error that's been made by White House staff.
Another document mixed up the names of Australia's foreign prime minister, stating "Vice President's Call with Australian Foreign Prime Minister Julie Bishop."
However, Bishop is the country's foreign minister and Malcolm Turnbull is Australia's prime minister.
Ms. Bishop is the country's Foreign Minister, while Malcolm Turnbull is the country's Prime Minister.
The British prime minister, Theresa May, is the first foreign leader to meet with Trump in Washington and is aiming to renew ties between the United States and Great Britain.
Let's just hope this little spelling error doesn't affect the outcome of their meeting.
Citations: White House drops its 'h' in misspelling of Theresa May's name (The Guardian)