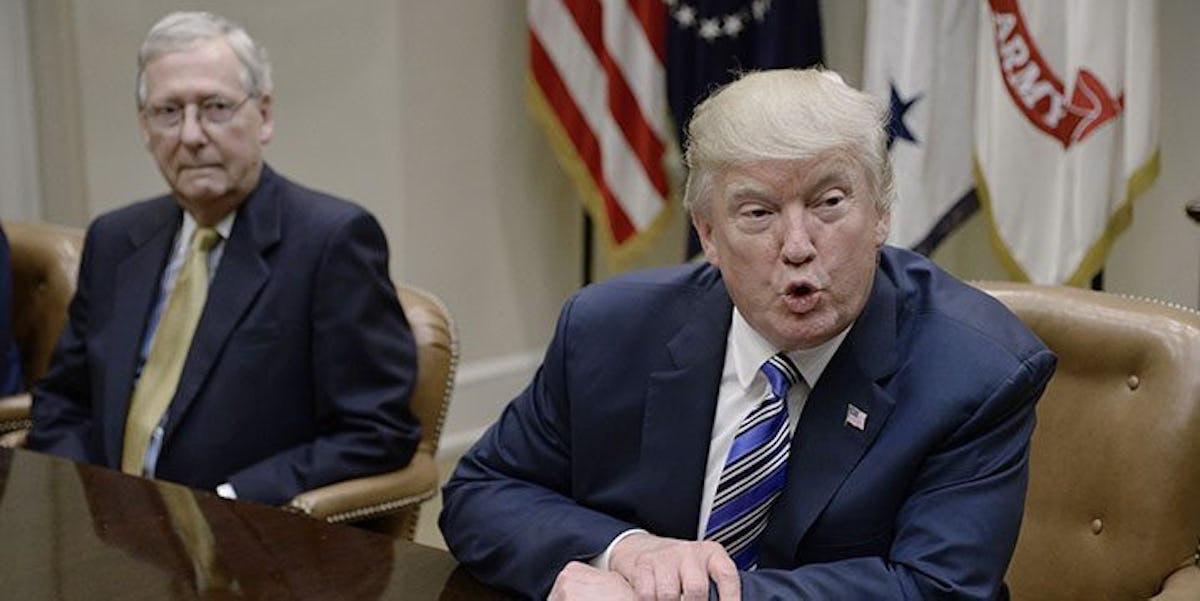 Trump Keeps Picking Fights With Top Republicans And It's Only Hurting Himself
Pool/Getty Images
President Donald Trump's fued with a top Republican looks like it won't end any time soon. On Thursday morning, Aug. 24, Trump publicly criticized Senate Majority Leader Mitch McConnell just hours after the White House released a statement asserting that the two leaders "remain united." Trump delivered his criticism via a series of posts on Twitter.
The president said,
The only problem I have with Mitch McConnell is that, after hearing Repeal & Replace for 7 years, he failed! That should NEVER have happened!
Trump's comments in public appear to be an accurate reflection of he and McConnell's relationship in private, particularly considering a few recent reports about the dialogue between the pair.
The two GOP leaders had a conversation turn into a vulgar shouting match during a recent phone call, according to the New York Times. During that call, Trump reportedly took issue with McConnell's handling of the GOP's efforts to pass a new health care bill. The president was also upset by the lack of protection he'd gotten from McConnell in regards to investigations stemming from Russian interference in last year's elections.
McConnell, for his part, criticized the president's lack of understanding for how the federal government works, the Times reported.
There's a danger for Trump.
The feud between Trump and McConnell has other Republicans worried, according to CNN, and for obvious reasons.
Trump and McConnell need each other to achieve goals that are on the GOP agenda. Antagonizing McConnell does nothing to improving the working relationship between he and Trump, which means to it does nothing to improve Trump's chances of getting the party on the same page when it comes time to pass big laws.
John McCain surely had good reasons for voting no on the GOP health care bill, but it didn't help that Trump had repeatedly antagonized him in the past.
All things considered, it's not exactly out of the question that Trump continuing to publicly feud with McConnell and other Republicans like Jeff Flake could come back to bite him. After all, with McCain, we've seen it happen once before.