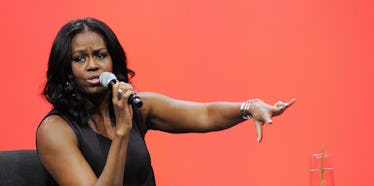 Trump Ends Michelle Obama's Education Program For Girls, Because Of Course
Getty
The Trump administration is ending a girls education program started by former First Lady Michelle Obama, CNN reports.
The program, "Let Girls Learn," was designed to foster educational opportunities for girls in developing countries.
The inter-governmental initiative was coordinated by the Peace Corps and the United States Agency for International Development (USAID).
"Aspects" of the program will continue, but employees were informed to stop using the "Let Girls Learn" name and that the initiative was being discontinued overall, according to CNN.
An email from Peace Corps acting director Sheila Crowley to employees reportedly states, "Moving forward, we will not continue to use the 'Let Girls Learn' brand or maintain a stand-alone program."
Crowley added,
'Let Girls Learn' provided a platform to showcase Peace Corps' strength in community development, shining a bright light on the work of our Volunteers all over the world. We are so proud of what 'Let Girls Learn' accomplished and we have all of you to thank for this success.
Based on the situation for many girls in developing countries, it's a shame to see a program like this be cancelled.
Millions of adolescent girls across the world are being denied the opportunity to receive an education.
For these reasons and more, Michelle Obama started the "Let Girls Learn" initiative in 2015.
At the time, Obama stated,
A good education can lift you from the most humble circumstances into a life you never could have imagined. I see myself in these girls. I see our daughters in these girls. I want to use my time and platform as first lady and beyond to make a real impact.
Celebrities like Alicia Keys and Anne Hathaway joined Obama in supporting the program.
Tina Tchen, who served as Michelle Obama's chief of staff expressed her disappointment to CNN over the initiative's cancellation.
Tchen said the program drew from both private sector support and public funding and said the benefits outweighed the costs, adding that it was already a well-known brand.
Michelle Obama had a lot of success promoting the program on social media via the hashtag #LetGirlsLearn, for example.
It seems the Trump administration felt the program was unnecessary, in spite of its benevolent intentions and outcomes.
Now that the program has been discontinued, Ivanka Trump, in particular, is on the receiving end of criticism due to her rhetoric on supporting opportunities for women.
Just a few days ago, the first daughter was booed in Germany while attempting to defend her father's record on gender equality.
Ivanka Trump has also attempted to paint herself as a champion for women's issues.
So it would interesting to hear what she has to say about the fact her father just cancelled a program called "Let Girls Learn."
Along with all of his other troubling actions and behavior toward women, this suggests President Donald Trump does not see helping young women around the world receive an education as a top priority.
Perhaps Ivanka will better understand why people boo her now.
President Trump has claimed "nobody has more respect for women than I do," but he continues to contradict himself.
Citations: First on CNN: Trump administration ending Michelle Obama's girls education program (CNN), OBAMAS LAUNCH 'LET GIRLS LEARN' EDUCATION INITIATIVE (Newsweek), 'Nobody has more respect for women than I do' (MSNBC)