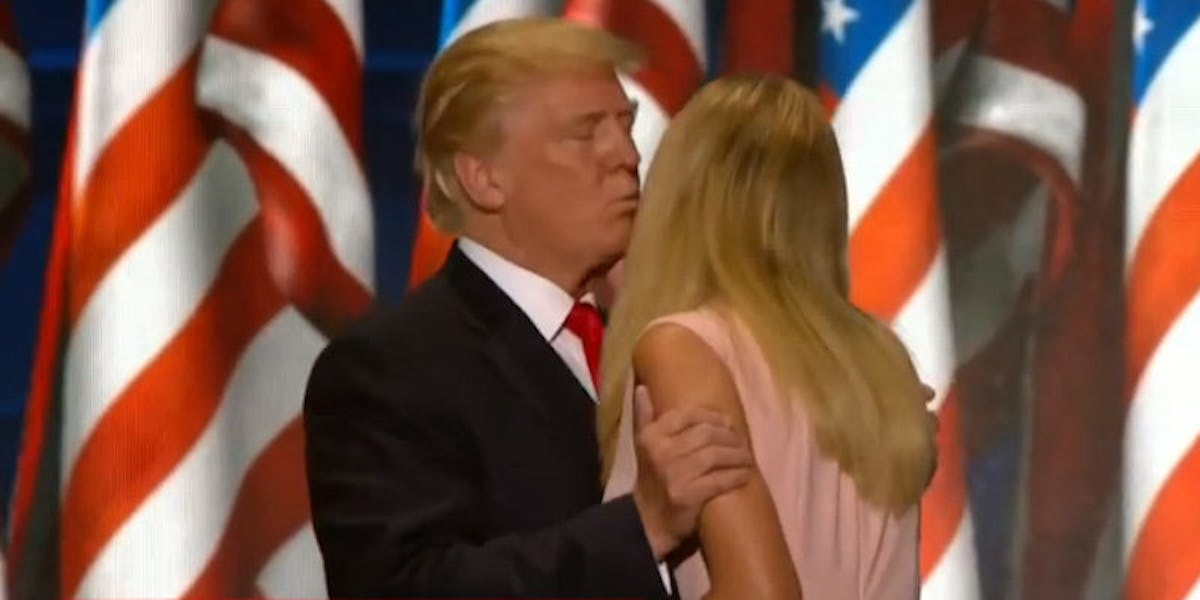 Trump's Comments About Kissing Ivanka Every Chance He Gets Are Barf-Worthy
YouTube
I hope you didn't just finish eating, because that food is about to achieve its final form: barf.
Donald Trump was recently on Dr. Oz's talk show to discuss his recent health report, you know, because he's got to give us something since he'll never release his tax returns in the next thousand years.
Well, MSNBC's Peter Alexander claims to have gotten word from producers of "The Dr. Oz Show" that certain comments Trump made about Ivanka were edited out.
The moment came after the 70-year-old Republican presidential nominee kissed his girlfr-... uh, I mean daughter.
After Dr. Oz said it was "nice to see a dad kiss his daughter," Trump said that he kisses Ivanka every chance he gets.
NO. Just no. Like a Trump casino, I want to SHUT THIS DOWN.
No wonder the producers wanted this edited out. It's creepy AF.
Of course, this isn't the first instance of weird father-daughter vibes between the two entering the realm of inappropriate.
Back in 2006, Trump went on "The View" with Ivanka and suggested that if she wasn't his daughter, he'd date her.
The two also went on "Wendy," and Trump said that the one thing the two have the most in common is sex.
What the holy f*ck is this? "Chinatown?"
He also intimated to Howard Stern in 2003 that were circumstances were different he'd commit incest, saying,
Yeah, she's really something, and what a beauty, that one. If I weren't happily married and, ya know, her father...
This statement above seems to suggest that after that ellipses Trump would say "I'd totally bang my daughter in a HYUGE way."
This... this is a man who is the Republican presidential nominee. SMDH, which is an abbreviation for "Shake My Democrat Head."
Citations: The Dr. Oz Show Edits Out Donald Trump's Creepy Comment About Kissing Ivanka Every Chance He Gets! (Perez Hilton)