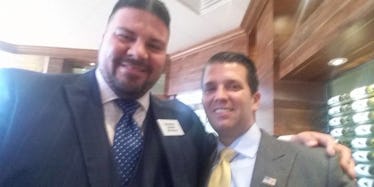 Married Trump Campaign Chairman Caught In Late-Night Motel Meetup With Teen Boy
Fa
Oklahoma Senator Ralph Shortey, 35, who also served as the state chair of President Donald Trump's campaign during the primary elections, is under investigation by police after he was caught in a Motel 8 room with an underage boy, Raw Story reports.
According to NewsOK, Shortey has been married to his high school sweetheart since 2002.
No one has been arrested, but text messages between Shortey and the boy are reportedly being investigated.
According to KOCO News 5, an employee at the hotel confirmed a man by the name of "Ralph Allen Shortey" checked into the motel at about 12:20 am on March 9 and requested a room with two beds.
About 30 minutes later, police showed up for a "welfare check," but it's not clear who contacted them.
NewsOK claims police became involved after relatives expressed concern about the teenage boy.
Speaking with NewsOK, Lt. Kyle Dudley stated,
On March 9… officers of the Moore Police Department were contacted in reference to a welfare check at a local hotel. Responding officers found a juvenile male in a hotel room which was also occupied by an adult male. The circumstances surrounding this incident are currently under investigation and no additional information can be released at this time.
There is reportedly a note on Shortey's office door right now that says he's out for the week.
It appears Shortey may have met with Donald Trump Jr recently, perhaps even the day after the incident with the teenage boy occurred, based on the date on a Facebook post (March 10).
The post says,
Was honoured to have lunch today with Donald Trump Jr. and some very influential and passionate business leaders in our state. Loved hearing the war stories from the campaign trail and what the next phase is in restoring our republic. Looking forward to an exciting future and hope to be a big part of it. He's an extremely electric guy with a magnetic personality. And, like his dad, very humble man with a true passion to make our country better.
Meanwhile, Democrats in Oklahoma have called on Shortey to suspend himself from official activities as the investigation continues.
A March 14 statement from Oklahoma Democratic Party Chair, Mark Hammons, says,
While a final resolution should await completion of the police investigation, Sen Ralph Shortey owes it to his constituents and all taxpayers to suspend himself from all official activities. This is far too embarrassing to have him speak, vote or represent Oklahoma on any issue.
Citations: BUSTED: Trump campaign chair caught in a motel room with an underage boy (Raw Story)