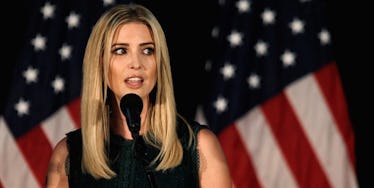 The Trump Administration Was Caught Publicly Promoting Another Ivanka Product
REUTERS
The Trump administration found itself in another ethics slip-up involving the promotion of Ivanka Trump products.
This time, it was the Office of Global Women's Issues at the US State Department that made the blunder on Wednesday.
The account @GenderAtState retweeted a post from Ivanka Trump's official handle, promoting the first daughter's new book.
This occurrence has, of course, not been uncommon this year.
Donald Trump's presidency has continuously blurred the lines between self-promotion and actual government business, everywhere from his policies in countries where his brand thrives to his avoidance of a blind trust.
Just last month, the State Department removed a blog post written about Mar-a-Lago, after it was perceived by many as too promotional.
When it comes to Ivanka, the administration has had multiple episodes where it has been criticized for allegedly promoting her personal ventures.
Most notably, Kellyanne Conway drew the attention of House Oversight Committee Chairman Jason Chaffetz after she gave a shoutout to Ivanka's line of clothing products during an appearance on Fox News.
Ivanka attracted even more questions when her company was awarded trademarks in China just as her and her father began meeting with president Xi Jinping.
It's clear why the GWI office would find the content relevant to its audience (Ivanka's new book is titled "Women Who Work"). However, it's much more obvious why something as simple as a retweet would stand out as an ethically questionable move.
On Thursday, President Trump touted how effective the use of social media channels is in being able to project a message and circumvent the press.
The use of the government's own channels to bring attention to the Trumps' private endeavors in simply not a good look, in my opinion -- especially considering all the negative attention the administration has already drawn concerning ethics thus far.
Citations: State Department Promotes Ivanka Trump's Book In Another Ethics Blunder (Huffington Post)