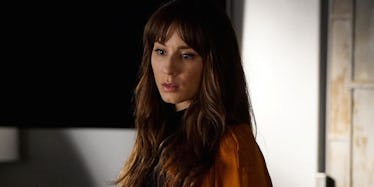 'PLL' Star Troian Bellisario Reveals If She'd Want To Be Like Spencer IRL
Freeform
Troian Bellisario is attending the Democratic National Convention in Philadelphia this week with the Creative Coalition, a nonpartisan group of people in the entertainment industry advocating for the arts.
I met up with Bellisario, who plays Spencer Hastings in "Pretty Little Liars," at a luncheon pushing for DC statehood on Tuesday, one of many events she attended throughout the week.
Bellisario said it has been an amazing week to witness so far. She told Elite Daily,
[The best part of the week was] to witness people that I think are a huge inspiration to me as a woman, as a person of many, many different backgrounds -- as an African American woman, as a white woman, as an American. I feel so inspired to be in this room to hear these people speak.
She said it's unbelievable she gets to watch all these people give their speeches on issues that affect her every day.
Although Bellisario is officially at the DNC to support the Creative Coalition, she has her own personal preferences on who she'll be voting for this year. She said,
For me, personally, to see a woman president would be one of the great accomplishments of my life. If I could be a part of that movement, I will be very, very proud.
Bellisario has previously come out swinging for women, including in her continued defense of Spencer's character.
It also makes sense for Bellisario to be excited about having a first woman president in Hillary Clinton, given "Pretty Little Liars" is low-key one of the most feminist shows on television, especially of those aimed at teen girls.
After the time-jump on "Pretty Little Liars," we find out Spencer has become a lobbyist in Washington, DC. (When I mentioned Spencer had "some" political aspirations, Bellisario grinned, saying, "Definitely!")
So, I asked Bellisario if she had any political aspirations herself. She said,
Oh my gosh, no.
But she has other ideas about her involvement in politics. Bellisario explained,
I know that I'm lucky enough to have been born into a great country and into a great political system. I feel like for a large part of my life I was pretty disillusioned and felt that I, as an individual, would not be heard against this great machine that was our democracy. And now, hearing people that have devoted their whole lives to this democracy and to ensuring that people like me have a voice, I just think it's important that I pass that message along to the fans who watch my show -- who are going to vote for whichever party they're going to vote for. I just want to make sure that they get out there, they learn about the issues, and they cast their votes so that their voice is heard. That's all I care about.
Unfortunately, Bellisario did not tell me who Uber-A is.