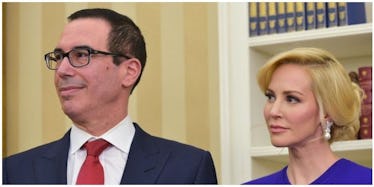 Looks Like The Treasury Sec. Totally Did Try To Use A Government Jet For His Honeymoon
MANDEL NGAN/AFP/Getty Images
Ethics watchdogs are having a field day with the Trump administration, monitoring potential conflicts of interest, possible emoluments violations, and more. And now, ABC News has reported that Treasury Secretary Steve Mnuchin wanted a government jet for his honeymoon. The unusual request -- to use government property for a private trip -- has reportedly prompted an ethics inquiry by the Treasury's Office of Inspector General.
The request, which was put into writing, was "highly unusual" according to sources who spoke to ABC -- and pricey. Government jets can cost upwards of $25,000 per hour to operate.
Mnuchin allegedly asked to use a government jet in order to travel to Scotland, France, and Italy earlier this summer for the couple's honeymoon. A former Treasury official said that even for official business, use of a government jet would be highly unusual for a Treasury Secretary, no less for private travel.
A spokesman for the Treasury Department told ABC News that the request was a matter of Mnuchin's desire to maintain a secure means of communication, but that Mnuchin quickly realized that secure communication could be maintained by other means.
In a statement, the spokesman said,
The Secretary is a member of the National Security Council and has responsibility for the Office of Terrorism and Financial Intelligence. It is imperative that he have access to secure communications, and it is our practice to consider a wide range of options to ensure he has these capabilities during his travel, including the possible use of military aircraft.
But that excuse doesn't exactly fly with many, including Oregon Senator Ron Wyden, who is the top Democrat on the Senate Finance Committee. Senator Wyden told ABC News,
You don't need a giant rulebook of government requirements to just say yourself, 'This is common sense, it's wrong.' That's just slap your forehead stuff.
The request is especially eyebrow raising after Mnuchin's now-wife, Louise Linton, posted a photo of her and her husband disembarking from a government jet after a trip to Kentucky in August.
Mnuchin and Linton went to Kentucky on August 21, reportedly so Mnuchin could discuss tax reform and take a tour of Fort Knox -- all official business. But the couple also watched the solar eclipse from the roof of Fort Knox with Senate Majority Leader Mitch McConnell, which prompted some to question whether or not they were misusing government property and funds.
Linton posted a photo of the couple disembarking on Instagram, complete with hashtags of the designers she was wearing. The entire comment was full of hashtags and not-so-humblebrags about her clothing: "Great #daytrip to #Kentucky! #nicest #people #beautiful #countryside [...] #rolandmouret pants #tomford sunnies, #hermesscarf #valentinorockstudheels #valentino #usa."
When an Oregonian woman commented, "Glad we could pay for your little getaway #deplorable," Linton went ballistic.
Her wall of text included the following comment:
cute!....Aw!! Did you think this was a personal trip?! Adorable! Do you think the US govt paid for our honeymoon or personal travel?! Lololol
Oh, god, the irony.
After Linton issued a half-hearted apology, officials at the Treasury Department said that Mnuchin and Linton would be reimbursing the government for Linton's travel, per The Washington Post.
But between the dubious reasons for Linton's presence on a government jet in August and news that Mnuchin wanted to use government property for his personal travel, it has some claiming that this behavior spells bigger problems in the administration as a whole.
Twice is not necessarily a pattern of behavior, but the fact that Mnuchin has been accused of misusing government jets -- which are extremely expensive and paid for by taxes -- does not look good.
And it is, at the very least, definitely not Instagram-worthy.