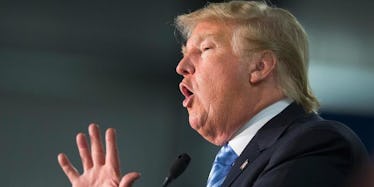 Britain FTW: Thousands Sign Petition To Ban Trump From Entering The UK
Getty Images
On Monday, Republican presidential candidate Donald Trump put out a press statement calling for "a total and complete shutdown of Muslims entering the United States."
The incendiary statement contained undeniably discriminatory language and has been widely viewed as a blatant example of bigotry.
Trump has since been lambasted by everyone from fellow presidential candidates to Speaker of the House Paul Ryan.
Republican Senator Lindsey Graham, also running for president, offered perhaps the bluntest and harshest criticism of Trump.
He stated,
You know how you make America great again? Tell Donald Trump to go to hell.
Trump's campaign slogan is "Make America Great Again!"
Graham also described Trump as a "race-baiting, xenophobic, religious bigot," and the "[ISIS] man of the year." It's hard to disagree.
White House Press Secretary Josh Earnest went as far to say Trump's call to ban Muslims from entering the US "disqualifies him from serving as president."
Criticism of Trump and his habitually offensive rhetoric has hardly been limited to the US either.
Following Trump's call to ban Muslim immigration the US, over 200,000 people signed a petition accusing Trump of hate speech and calling on the British government to prohibit him from entering the UK.
The petition states,
The UK has banned entry to many individuals for hate speech. The same principles should apply to everyone who wishes to enter the UK. If the United Kingdom is to continue applying the 'unacceptable behaviour' criteria to those who wish to enter its borders, it must be fairly applied to the rich as well as poor, and the weak as well as powerful.
The UK parliament is required to consider for debate any petition that reaches over 100,000 signatures, according to TIME.
Indeed, it seems many in the UK are unhappy with Donald Trump, as famed author JK Rowling recently tweeted he's worse than Voldemort.
How horrible. Voldemort was nowhere near as bad. https://t.co/hFO0XmOpPH — J.K. Rowling (@jk_rowling) December 8, 2015
British Prime Minister David Cameron also described Trump's anti-Muslim rhetoric as "divisive, unhelpful and quite simply wrong."
It seems Trump will likely still be allowed to enter the UK, however, as UK Chancellor of the Exchequer George Osborne reportedly rejected the petition to bar his entry on Wednesday, The Guardian reports.
Still, the US should take note of how many across the world are offended by Trump and his Islamophobic sentiments.
Electing such a man could do irrevocable damage to America's international esteem and could arguably make the US a target for even more terror attacks.
Citations: Paul Ryan's succinct, near-perfect response to Trump's call to ban Muslims entering U.S. (The Washington Post), Lindsey Graham: 'Tell Donald Trump to go to hell' (CNN), White House: Donald Trump Muslim plan 'disqualifies' him from presidency (CNN), Petition to Ban Donald Trump From U.K. Gets Over 150,000 Signatures (TIME), Block Donald J Trump from UK entry (UK Government and Parliament Petitions), David Cameron criticises Donald Trump 'Muslim ban' call (BBC), Donald Trump will not be barred from Britain despite Muslims outburst (The Guardian)