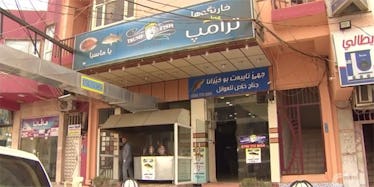 There's A Donald Trump-Themed Restaurant And Its Logo Will Give You Nightmares
CNN
An Iraqi restaurant has chosen an interesting way to brand itself, bigly, by using president-elect Donald Trump's likeness.
In December, owner Nadyar opened up a fish restaurant in Dohuk, a city in Northern Iraq. The name of choice? Trump Fish — and the logo is as comical as the idea of a Manhattan real estate magnate having his face on an establishment in a Kurdish town.
But the fact that Dohuk is predominantly Kurdish is exactly what led to the restaurant's unique name.
According to CNN, Nadyar Zawiti chose to brand the restaurant in such a way after hearing Trump call for Kurdish forces to be armed, as a way to further combat ISIS.
Zawiti told CNN,
What I admire about Trump's personality is that he's decisive, he's tough and hopefully with that toughness he'll finish ISIS off.
But wait, there's more! And this is something I'm so glad someone besides myself noticed. If you thought the restaurant's logo already looked funny, just consider this: it was stolen.
The funny-as-ever Trump face on the restaurant's logo is not the creative work of Zawiti.
Nope, it's actually a rendition of the San Diego Chargers logo, which was featured by Uproxx Sports when they created their own branding experiment: "Let's Redesign Every NFL Logo As Donald Trump And Make The League Great Again."
And Zawiti doesn't only like Trump for his kind words toward Kurds, the restaurant owner says he also appreciates how he sees some of himself in the president-elect.
In a video feature from Reuters, Zawiti says,
I love his personality and his policy. His style is close to me. I like him as a person and as a businessman.
It's also clear that Zawiti and Trump have something else in common: Both are shamelessly crafty in their efforts to make money.
Citations: CNN