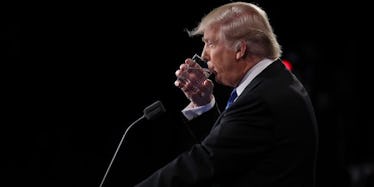 There's An Official Trump Inauguration Drinking Game And You'll Def Be Playing
REUTERS
Brace yourselves.
On Friday, January 20 at 12 PM EST, the inevitable will happen. President-elect Donald Trump will raise his hand, repeat a 35-word oath, and be sworn into office as the 45th President of the United States.
What was believed to be a long, tireless prank, will go down as a sad, yet historical truth: Donald Trump will be the most powerful man in the world.
*Cue dramatic music for shock revelation… dun dun dun*
Being that I'm not a supporter of Donald Trump, I can already see how the inauguration will unfold: All of the palpable eye rolls (I see you Michelle), the cringe-like commentary from Trump and his administration, and hilarious internet memes juxtaposed with Trump's cartoon-like appearance… this is going to be the world's largest shit show, and we have front row seats.
Whether the imminent Trump presidency scares the living crap out of you or makes your blood boil, one thing is certain -- you are not alone.
As some A-list celebrities duck requests to perform on this dreadful day, as other resolute civilians prepare for protests, as climate scientists announce dire warnings and alarming consequences, as immigrants fear for their civil rights and the chance of deportation, and as the rest of us sulk in misery, why not use this momentous event in our nation's history to get completely hammered and help ease the pain of the unavoidable fate of our country's future?
Yes, I'm aware that the inauguration ceremony begins in the morning, but let's face it people, it is happy hour somewhere.
I was recently given an exclusive peek at a drinking game that will be featured during the 2017 inauguration through a new social polling app called Winq. An app that allows like-minded people with headstrong and unwavering opinions to contribute and defend their beliefs in an open forum.
I thought we could all use some online democracy before we sell our souls to Trump and his administration for the next four years.
So How Do I Play?
Setting up:
Round up your mates.
Download the Winq app on your phone (available in both iPhone and Android).
Open up the category labeled 'Inauguration' (which you'll find through the fire icon).
Rules:
One person reads a poll.
Everyone in the room says which option they'd vote for.
Put in your vote in the Winq App itself to see the results.
If you did not vote with the majority, take a shot.
Repeat #1-4.
Keep playing until one of you hits the floor! (But don't actually, because that's not very sensible and we don't want to be sued.)
Polls will range from political agendas to the featured performers to FLOTUS' style (FYI: Michelle Obama will forever be FLOTUS to me).
Coupled with a few "drink every time Trump uses the word huge," or "take a shot every time you wish you were watching Obama and Biden instead of Trump and Pence," and you've got yourself one hell of a drinking game.
A cross between Cards Against Humanity and Trivia Crack, this game will help numb your fear and pain.
Remember, Trump's presidency is not the end of the world as we know it. It's just a mere obstacle that we will overcome. So, take the day off, relax and enjoy the reality TV show that is what we call the 2017 Trump Inauguration -- or what I would like to call, "Help America Forget Today."