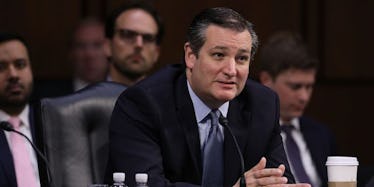 Ted Cruz Has A Wildly Sneaky Plan To Make Mexico Pay For Trump's Wall
Getty Images
Senator Ted Cruz has an interesting idea for financing the wall President Donald Trump wants to build across the US-Mexico border.
Trump has repeatedly claimed Mexico will pay for a wall.
But here's the thing: That's not happening.
The Mexican government has made it abundantly clear it's not going to finance what is viewed by many as a ridiculous waste of money that won't even be a bandaid for the myriad issues plaguing America's broken immigration system.
Ted Cruz, however, just introduced a plan that would use the $14 billion in assets the US government is trying to get from the infamous drug lord Joaquin Guzman, also known as "El Chapo."
Cruz introduced the Ensuring Lawful Collection of Hidden Assets to Provide Order Act, which, you guessed it, has been nicknamed as the El Chapo Act (how clever), on Monday.
In short, the bill calls for any funds the US government seizes by prosecuting El Chapo to go toward the wall.
In a statement, Cruz said,
Fourteen billion dollars will go a long way toward building a wall that will keep Americans safe and hinder the illegal flow of drugs, weapons, and individuals across our southern border. Ensuring the safety and security of Texans is one of my top priorities. We must also be mindful of the impact on the federal budget. By leveraging any criminally forfeited assets of El Chapo and his ilk, we can offset the wall's cost and make meaningful progress toward achieving President Trump's stated border security objectives.
So, this would not require the Mexican government to pay for the wall. It would also potentially keep US taxpayers out of the equation, while essentially requiring a Mexican citizen to cover the cost.
This isn't exactly what Trump promised, but, in a sense, he could spin this to claim Mexico is paying for the wall if the bill passes.
El Chapo's lawyers are not happy.
El Chapo's lawyers, Michael Schneider and Michelle Gelernt, told New York Daily News, the US government has "yet to demonstrate that Mr. Guzman has any assets at all."
They added,
Under the Constitution, the government has to prove that someone is guilty of a crime before it can take his property. Though the government continues to hold Mr. Guzman in isolation, without even allowing him to write a letter to his family, he is presumed innocent. He looks forward to fighting the charges against him.
El Chapo twice escaped Mexican presidents.
He was eventually recaptured and extradited to the US, and now faces federal charges including conspiracy to murder and money laundering.
The wall could cost a lot more than $14 billion.
On top of the legal challenges the El Chapo Act faces, it's also not clear how much Trump's proposed border wall will cost.
Conservative estimates for the total cost range around $25 billion, while a recent report from Senate Democrats place the price-tag at roughly $67 billion.
The president hasn't given a clear answer on this. While he recently told AP he believes the wall will cost around $10 billion "or less," he's shifted on this topic a number of times.
Long story short, even if Cruz's El Chapo Act comes to fruition, it might not cover the cost of the wall.
This would likely mean US taxpayers would cover the rest of the bill.
Citations: Ted Cruz wants 'El Chapo' to pay for Trump's border wall (CNN)