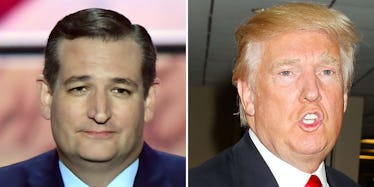 Ted Cruz Finally Announced His Support For Donald Trump On Facebook
REX/Shutterstock
After famously withholding his endorsement of Donald Trump at the Republican National Convention, Ted Cruz has finally caved and announced his support for Trump on Facebook.
(*Groan*) Great, that's just what we needed -- another Facebook post about Donald Trump.
The full statement can be read below.
While it's a lengthy passage, here are a few excerpts that highlight the core "argument" of why Cruz is suddenly throwing his support behind The Donald,
After many months of careful consideration, of prayer and searching my own conscience, I have decided that on Election Day, I will vote for the Republican nominee, Donald Trump... A year ago, I pledged to endorse the Republican nominee, and I am honoring that commitment. And if you don't want to see a Hillary Clinton presidency, I encourage you to vote for him.
Let me remind you that this is the same guy who called Trump a "serial philanderer," "utterly amoral," and "a narcissist at a level I don't think this country's ever seen," at the Indiana Primary.
Basically, Cruz's current cow-towing to Trump is the most awkward thing he's done since:
THIS IS NOT HOW HANDSHAKES WORK. SERIOUSLY, THEY'RE LIKE TWO SPIDERS WRESTLING.
Well, I know you wondering how Trump responded to all this and, surprisingly, he was very gracious, considering how he previously said he would not accept an endorsement from Cruz (who he's previously called "Lyin' Ted) even if he received it.
(Basically, this is the only thing that Trump and I have agreed on... that Cruz's support means nothing.)
Now that the tempers of the RNC have cooled down, here's what Trump had to say about Cruz's endorsement in a statement to CNN,
I am greatly honored by the endorsement of Senator Cruz. We have fought the battle and he was a tough and brilliant opponent. I look forward to working with him for many years to come in order to make America great again.
Battle? Eh. Name-calling session I'd expect from middle schoolers? Yeah, that's more accurate.
This is a fairly shocking response from Trump seeing as how the Republican presidential nominee previously implied that Cruz's father was involved in the JFK assassination.
According to a source close to Republican vice presidential nominee Mike Pence, Pence was a key plater in convincing Cruz to come over to their side.
(That sounds like he's recruiting Cruz to be a Sith by joining the Dark Side. Well, you know, that's not far off.)
That, when coupled with Trump's recent support of Cruz's Internet-based legislation and conservative choices for judges, makes it pretty clear why Cruz has finally submitted to Trump.
Citations: Ted Cruz endorses Donald Trump (CNN)