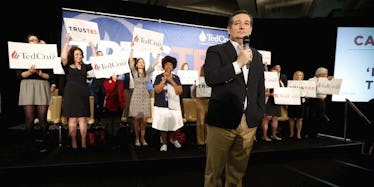 Ted Cruz's College Roommate Just Threw Major Shade At Him Over His Dildo Ban
REUTERS / Lucy Nicholson
Ted Cruz, a Republican presidential candidate, tried to ban the sale of dildos in 2007 and 2008 in Texas.
While he was Texas solicitor general, a case came up about the legality of selling dildos, artificial vaginas and other sex toys. As Mother Jones reports, Cruz's team fought for the ban with a 76-page brief.
In the brief, the team said a ban of sales would protect Texas's "public morals" by "discouraging prurient interests in sexual gratification, combating the commercial sale of sex, and protecting minors."
Although the legal argument said people could still use dildos and talk about using them, the brief maintained there is no legal right to sell them. It said using sex toys was similar to hiring a prostitute.
Cruz's brief claimed Texans do not have a legal right to masturbation, saying,
There is no substantive-due-process right to stimulate one's genitals for non-medical purposes unrelated to procreation or outside of an interpersonal relationship.
Ted Cruz's college roommate, Craig Mazin, had some shade to throw about this legal argument.
Mazin and Cruz were reportedly roommates in their freshman year at Princeton University. The pairing clearly did not work out well.
Mazin is now a screenwriter with a ton of Twitter followers, and he has been using his platform to continuously make fun of Cruz. He frequently shares stories from their time together, including the fact he used to get invited to parties because people felt bad he had to live with Cruz.
Mazin has been outspoken in his dislike for Cruz. Mazin told The Daily Beast a few years ago he would "rather have anybody else be the president of the United States."
When the news broke of Cruz's anti-masturbation attempt, Mazin was back at it again with the Twitter digs.
Other people who knew Cruz in college have been similarly open about their negative feelings toward him. Cruz has been described as "creepy" and generally awful to be around. One Princeton alum told Jezebel,
Everyone in my class that I've talked to is horrified that he's a candidate.
Citations: The Time Ted Cruz Defended a Ban on Dildos (Mother Jones), Ted Cruz's college roommate keeps roasting him on Twitter (The Daily Dot), Ted Cruz at Princeton: Creepy, Sometimes Well Liked, and Exactly the Same (The Daily Beast), Here's What Happens When You Try and Track Down a Ted Cruz College Rumor (Jezebel)