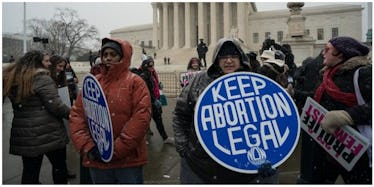 This State's New Abortion Law Is So Awful It's Being Called "Rape Insurance"
Albin Lohr-Jones/Pacific Press/LightRocket via Getty Images
The photo is telling. Three white men: one, Texas Governor Greg Abbott, sits, proudly displaying a newly signed law, while the other two flank him. All smiling. All seemingly proud of the legislation they've approved. It's an appropriate display for, perhaps, infrastructure spending or something of the like. But no -- they're smiling because they just passed HB 214, an abortion bill so strict it's being dubbed "rape insurance." In fact, Texas's new "rape insurance" law bans coverage for abortion under almost all circumstances.
The law, which will go into effect on Dec. 1, "bars abortion coverage from private, state-offered, and Affordable Care Act (ACA) insurance plans, with an exception for narrowly defined 'medical emergency' but no exceptions for rape, incest or fetal abnormalities," according to the Austin Chronicle.
Under this law, women would have to buy supplemental insurance to cover abortion care. But insurance plans aren't required to offer this supplemental coverage, nor do they have to notify clients if they don't offer it. In other words: women will have to buy supplemental insurance (if it's available) on the off-chance that they might one day be raped or have a non-viable pregnancy. It's a stunningly cruel law.
Dr. Sealy Massingill, Chief Medical Officer of Planned Parenthood of Greater Texas, member of Physicians for Reproductive Health, and President-Elect of the Texas Association of Obstetricians and Gynecologists, told Elite Daily that this law has little to do with health outcomes.
"This current insurance law, it serves no purpose whatsoever, except to make the Republican primary voter happy," he says.
According to Massingill, most women in Texas don't use insurance for pregnancy termination, and those who do usually have complicated, non-viable pregnancies.
"What this legislation is actually going to do is put women who are in terrible situations in even more terrible situations," Massingill says. "The typical woman who seeks to use insurance to terminate has a complicated pregnancy that doesn't fit in the very narrow exceptions they've added. Now they're faced with the prospect of figuring out how to get this paid for. It's just one more barrier for women in desperate situations."
Dr. Daniel Grossman, director of Advancing New Standards in Reproductive Health (ANSIRH) and a researcher with the Texas Policy Evaluation Project (TxPEP), which looks at the impact of reproductive health policy, reaffirms Massingill's worries.
In a 2014 survey with women seeking abortions, TxPEP found that "only 45 percent of women had any kind of health insurance, and only 5 percent had insurance they were going to use," Grossman told Elite Daily.
Both Massingill and Grossman are clear: abortion isn't something that any woman anticipates.
And the narrow "medical emergency" definitions -- which leave out instances of rape, incest, and fetal abnormalities -- open the door to re-traumatization of sexual assault survivors, among other complications.
Grossman says that Texas's 2013 HB2, for example, led to an increase in second semester abortions before two of its key provisions were struck down in a 2016 Supreme Court case. He also says that self-induced abortion is more common in Texas than in other states, which could potentially compound with the passage of this bill.
"This will end up affecting a small number of people currently," Grossman says, "but [this bill] will have an effect to further stigmatize abortion care and separate it from the rest of health care. [Health care providers] see this as part of the spectrum of women's health care, and it doesn't make sense to separate it out this way."
"It's sad, and I wish I could say it was shocking," Massingill says. "But after a decade or so of this nonsense, it's just, 'Okay, what are they going to do this time?'"