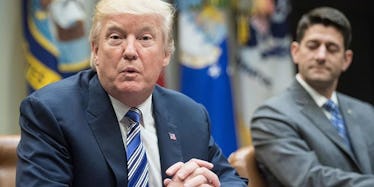 Someone Put Trump On The "Disloyal Man" Meme And It's So, So Savage
NICHOLAS KAMM/AFP/Getty Images
If there was one thing that's certain during these super confusing times, it's that the "disloyal man" meme is one of the funniest things on the internet. Now, after President Donald Trump's latest big move, it's one of the funniest things on the internet and a joke that perfectly describes a huge event in Washington D.C. Yes, someone put Donald Trump and Paul Ryan on the disloyal man meme, and there's a good explanation for why.
In the middle of a face-to-face meeting with leading politicians, President Trump suddenly took the side of Democrats and blindsided leading Republicans, hence the idea of the disloyalty.
Here's the basics of how it all went down.
On Wednesday, Sept. 6, Trump met with the leading politicians to negotiate an important deal related to the nation's debt. On one side of the negotiations were the leading Democrats: House Minority Leader Nancy Pelosi (D-CA) and Senate Minority Leader Chuck Schumer (D-NY). Their objective was to agree on a debt ceiling, but for a short period of time -- three months.
On the other side of the negotiations were leading Republicans: House Speaker Paul Ryan, Senate Majority Leader Mitch McConnell, House Majority Leader Kevin McCarthy, along with Trump's treasury secretary Steven Mnuchin. They were arguing for setting a debt ceiling for a long period of time, 18 months.
The deck was clearly stacked in Republicans' favor, or so it seemed.
While Mnuchin argued for a long-term deal, Trump abruptly cut off a member of his own cabinet and sided with Pelosi and Schumer, according to The New Yorker.
Next things you know, thousands of people were retweeting a (quite frankly, genius) meme from IJR reporter Haley Byrd, who edited the faces of Trump, Ryan, and Schumer onto the disloyal man meme and arrived at this piece of gold:
One of the people who shared the meme was Axios reporter Jonathan Swan, who labeled the negotiation the "deal of the century" for Democrats and cited one Republican close to GOP leadership as saying,
Dems bluffed their way into total victory. They win the politics of DACA and leverage on debt in the winter. The fate is sealed - DACA will be reauthorized without strings, Schumer has inserted himself into all negotiations in the winter, including tax, spending and immigration.
As that anonymous Republican mentions, Trump's decision on Wednesday could have all types of implications for D.C., which is why some of the best reporters have already begun analyzing what the decision could mean for how fellow Republicans view Trump.
Exact results remain to be seen, though.
One result, however, is obvious now. One of the internet's greatest memes has made it to the White House.