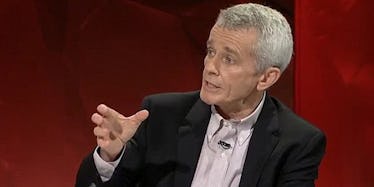 Senator Says Some Women Think Catcalling Is 'Wonderful' And Twitter Loses It
Twitter
People on Twitter are barely keeping their cool right now after hearing what Australian senator Malcolm Roberts had to say about catcalling.
Roberts, a member of Australia's far-right One Nation political party, was discussing laws on sexual harassment on ABC's Radio National "Drive" program with host Patricia Karvelas, when the topic turned to the differences between verbal and physical forms of abuse.
Karvelas asked Roberts if he believed verbal sexual harassment should be illegal in the same way physical harassment is.
The senator responded,
Well we know when someone… is a wolf-whistle harassment? It depends upon the person. Some girls think that that is wonderful, they, you know, they smile. Others are offended. So, wolf-whistle in one court are we going to outlaw it, and another court we're going to say it's fine, a compliment?
When Karvelas asked if this meant he believes sexual harassment laws go too far, he said yes.
Roberts continued,
I haven't seen the sexual harassment laws so I'd need to read them first.
Mmm, sure, you go ahead and do that.
If you're having trouble putting your rage into words, Twitter is here to help you.
Or maybe not.
We're all having trouble expressing our emotions on this one.
Maybe someone needs to start asking Roberts the real hard-hitting questions...
... for which I'm sure he has only the most reliable evidence.
Really, though, it seems like the Australian senator simply doesn't get it.
He doesn't get why women smile at men who verbally harass them.
How could he? He's apparently never even read the laws on any of this.
If you aspire to not be like Malcolm Roberts, you're welcome to read about Australia's Sex Discrimination Act here to educate yourself a bit.
Knowledge is power, guys. With technology being as accessible as it is these days, there's simply no excuse for this kind of ignorance, especially for people who are elected into positions of power.
Citations: Senator Says Some "Girls" Like Being "Wolf-Whistled" (BuzzFeed News), Sex Discrimination Act of 1984 (Federal Register of Legislation)