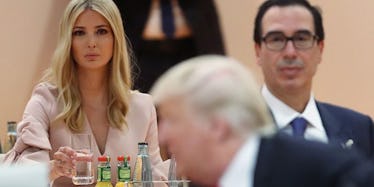 You Have To Read Ivanka's Tweet About Globalization Following Trump's "Locked And Loaded" Tweet
Sean Gallup/Getty Images
In case you were wondering whether a certain White House advisor would have anything to say about President Donald Trump's rhetoric towards North Korea, don't hold your breath. On Twitter, Ivanka Trump ignored President Trump's North Korea threat and hasn't otherwise made any public statement on the matter. Ivanka Trump's attention does, however, appear to be abroad, just somewhere other than North Korea.
On Friday, the president's daughter retweeted a pairs posts that detailed one of her future plans -- one tweet from her father and the other from U.S. State Department spokeswoman Heather Nauert.
That plan is to lead a delegation representing the U.S. at a global entrepreneurship summit in Hyderabad, India. The summit will be held in November, and will be co-hosted by the U.S., along with India itself.
A statement from the State Department reads,
Through two and half days of training and mentoring sessions, networking, and investment matchmaking, the United States and India will forge new collaborations and launch new initiatives, while reducing the barriers inhibiting international growth and innovation.
As for the matter of tensions between North Korea and the U.S., and the possibility of military action resulting from those tensions, well, Ivanka Trump appears uninterested in weighing, unlike others in the president's circle.
During an appearance on Fox and Friends, for instance, White House national security aide Sebastian Gorka co-signed President Trump's "fire and fury" threat to North Korea.
Gorka said,
Don't test America and don't test Donald J. Trump. We are not just a superpower. We were a superpower. We are now a hyperpower. Nobody in the world, especially not North Korea, comes close to challenging our military capabilities.
One way or another, a number of people in Trump's circle -- either in the media or in his cabinet -- have come out to reaffirm the president's rhetoric while others question whether Trump's approach to the situation is reckless.
As for Ivanka Trump, she seems comfortable sitting this one out.