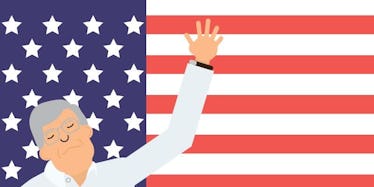 This Is How The Presidential Candidates' Tinder Profiles Would Look
After some rigorous investigative journalism involving a constant stream of right swipes, the Elite Daily News Team has found the Tinder profiles of six presidential candidates.
We now exclusively bring the profiles to you, in the name of campaign transparency.
Donald Trump, Republican
The leading Republican candidate is seen wearing his signature campaign hat and promoting his private jet.
One of his pictures is from an apparent "meme" depicting different cats as the candidate.
Our sources have not confirmed if Trump added that picture in a moment of humorous self-awareness or if he simply confused it with a picture of himself.
Hillary Clinton, Democrat
Clinton has presented herself as a bit of a swinger, including an image of herself with husband Bill and their new grandchild and referring to her changing views as "learning."
She also added a photo of herself from her undergrad days in 1969 in an apparent move to trick users into thinking she's younger.
Clinton continues to make the most of her 11-hour Benghazi hearing.
Jeb Bush, Republican
Bush continues to struggle against the reputation of his brother, clearly uncertain about how to address it in both public and personal realms.
His bro-ish profile includes some broken Spanish, apparently to indicate his "down-to-earth" ability with the language.
Bernie Sanders, Democrat
Sanders is quick to refer to his socialist stance in his profile, both through innuendo and a Marx quote.
His pics include him with a bong and a can of beer while he has apparently embraced his resemblance to Doc Brown from "Back to the Future."
Ben Carson, Republican
Carson, the neurosurgeon, attempts to make use of his cameo appearance in the seminal 2003 film "Stuck On You."
He also apparently likes emojis and guns, but not non-Christians or social justice warriors.
Martin O'Malley, Democrat
O'Malley depicts his band and bod, but we're still not quite certain who he really is.